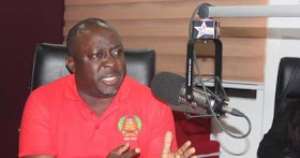 Baba Jamal
The former Deputy Minister for employment and Labour Relations Baba Jamal have warned Prophet Owusu Bempah, Leader and Founder of Glorious Word and Power Ministry to stop his false prophetic on former president John Mahama or fire for him.
Prophet Owusu Bempah in an interview with the media said, the former president John Dramani Mahama chances of winning the presidential seat have been locked up spiritually by God and for that matter cannot be president.
Speaking to an Accra based radio station Okay FM, he says the general public is advised to disregard this false prophet who always give untrue prophecies.
Mr Baba Jamal, a private legal practitioner who is the Deputy Director, Legal Affairs of opposition National Democratic Congress (NDC) stated that Owusu Bempah will be treated as a common politician and will expose him.
"Moreover, this false prophet claims about the whereabouts of the 3 missing Tadi girls do not hold," he added.
The former Member of Parliament for Akwatia Constituency noted that Owusu Bempah who is acting like a politician predicted the death of the National Chief Imam Usman Shaributu but was in vain.
Baba Jamal describing Owusu Bempah as a predictor and trickster reiterated that, he should disassociate himself from politics to build a credible image for him to be reaccepted into the prophetic ministry.
He says H.E John Dramani Mahama is a blessing from God to Ghanaians and for that matter 2020 general elections will be a victory.