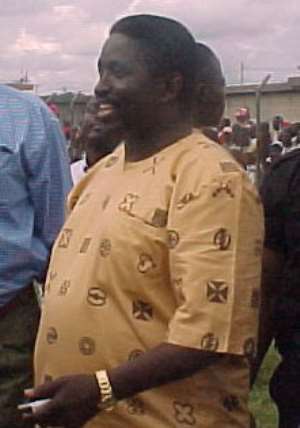 ....Effah Dartey disagrees with US Govt The deputy minister of the Interior, Captain Nkrabea Effah Dartey says he disagrees with media reports that suggest that Ghana is a transit point for drug trafficking.
" Don't create negative impression, it doesn't constitute a fact that Ghana is a transit point," he said.
Captain Effah Dartey who is also chairman of the Narcotics Control Board (NACOB) was reacting to questions as to what measures have been instituted by government to check the practice of trafficking drugs through Ghana.
The US Government's 2005 Assessment Report on Illegal Drugs Situation in Ghana said 'Ghana is increasingly becoming a transit point for illegal drugs, particularly cocaine from South America and heroin from South East and South West Asia…"
Captain Effah Dartey said government has taken drug trafficking as a serious issue and is committed to fighting the pandemic to the barest minimum.
However, Director of the UN Information Centre, Accra, Madam Novicki revealed in her report that ' In 2004, the total amount of cocaine seized while being transported through countries in West Africa exceeded 14 tons.
One single seizure of 2.5 tons of cocaine was made on a vessel off the coast of Ghana that had been registered in that country.
Since the beginning of 2004, seizures of cocaine totaling some 40 tons have been effected on the high seas on ships coming from West Africa.'