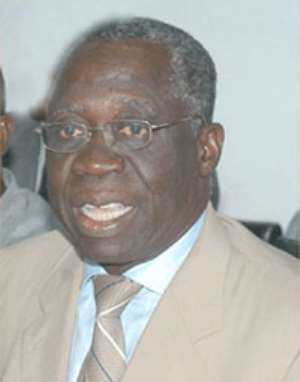 Accra, March 9, GNA - Mr Yaw Osafo-Maafo, Minister of Education and Sports, on Thursday said any District that wanted to establish a secondary school should ensure that 50 per cent of the teaching staff was professional and employed as permanent staff in the school.
He said the location of the school should also be such that there was no senior secondary school within a 10-mile radius.
He said in considering the establishment of a secondary school in a district, the current junior secondary school form three students in the catchment area should be about 300.
Mr Osafo-Maafo was responding to questions in Parliament on plans the Ministry had to establish senior secondary schools in three constituencies.
The Minister said any District that needed a secondary school should apply to the Regional Education Office taking into consideration various requirements including the provision of proper windows for every classroom with well fitted louvers or shutters and in mosquito infested areas, provision should be made for mosquito-proof windows and trapdoors.
"The schools lands must be properly documented and appropriate legal documents obtained on the school's ownership of the lands. "In urban and densely populated areas where there are existing senior secondary schools within the catchment area; the JSS student-population should be such that the new school can attract at least 80 students for the senior secondary form one class," the Minister said.
Mr Osafo-Maafo said there must be available at least six large well ventilated classrooms, spacious enough to accommodate 40 students each. He mentioned the provision of toilets facilities; offices, reliable water and power supply system and a school park among others as criteria for the establishment of a senior secondary school.
In response to another question, on when a block of six classroom project for the Gyaama Pensan Secondary Technical School at Aboaso in the Kwabre East constituency started and abandoned in 1999, would be completed, the Minister said the project would be considered when new projects were being listed for funding. Rehabilitation of PRESEC on course - Osafo-Maafo Accra, March 9, GNA - Mr Yaw Osafo-Maafo, Minister of Education and Sports, on Thursday said the Ministry had initiated four projects at the Presbyterian Boys' Secondary (PRESEC) at Legon as part of rehabilitation of some selected Senior Secondary Schools in the country.
He said the four projects are the rehabilitation of a three-storey classroom block, construction of one bungalow, a dormitory block and a 12-unit classroom block.
Mr Osafo-Maafo said this in Parliament in an answer to a question by Alhaji Amadu Sorogho, NDC-Abokobi/Madina, who wanted to know when the Ministry would undertake the rehabilitation of infrastructure at PRESEC, which had seriously deteriorated.
The Education Minister said 12 per cent of work had been completed on the three-storey classroom block and that works was still ongoing. He said an amount of 249.7 million cedis had been spent on the project to date.
"The construction of the bungalow wwas started in 2004 and completed last year at a contract sum of 352 million cedis of which 335.6 million had been paid."
Mr Osafo-Maafo said the 12-unit classroom block was started in 1999 and so far, 24 per cent of work had been completed. The Minister said works were, however, suspended in 2000 for lack of funds and that an amount of 200 million cedis had been allocated in the 2006 budget for the work.
He said another 500 million cedis have been budgeted from the Ghana Education Trust Fund for the projects.