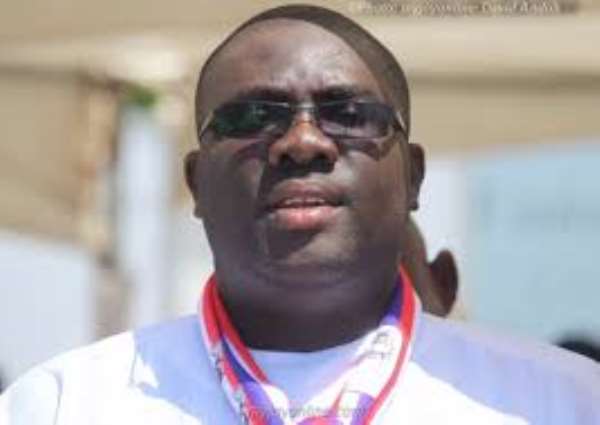 National Organizer of the New Patriotic Party (NPP), Sammy Awuku has denied signing a purported letter to the National Security Minister requesting it to train tugs ahead of 2020 general elections.
A letter dated 12 May 2019, purportedly signed by the Sammi Awuku stated that "It has become necessary going into the 2020 elections to put in place as a party in power, a special security task unit aside the state security to counter any form of intimidation and harassment from the opposition, National Democratic Congress (NDC).
But in an interview on Okay Fm with Kwame Nkrumah Tikese, he emphatically denied writing such a letter. "It is the most pathetic propaganda material ever to the released," he said.
He claims that features on the letterhead which include his name and the signature are not issued by his office.
Sammi Awuku claim, his name was spelt 'Sammy' instead of 'Sammi'.
He mentioned that he's political experience affirms the letter is politically orchestrated by the opposition.
Sammi Awuku expresses worry that it could mar the 2020 general elections. "We are fast approaching 2020 elections and we shouldn't heighten the political tension."
In his view, the letter intends to create disaffection for him, the party and panic in the system.
According to him, the NPP is bent on winning the 2020 general elections based on fulfilled promised by the government. "NPP going into the 2020 general elections will not fight it on propaganda but will fight it on the edge of track record."
In his words, the government inter alia the promises made during the 2016 electioneering campaign is been fulfilled.
Read his facebook post below:
My attention has been drawn to a screenshot of a purported letter being circulated on social media platforms that I have addressed to the Minister of National Security for the training of Special Task Force for Election 2020.
I want to emphatically clarify the following :
1. This letter is NOT from my desk.
2. I will NOT on any grounds write a letter to the Hon. Minister to request for such training. Besides, training of security operatives does not lie in my domain as National Organiser of the New Patriotic party as well as that of the National Executives of our great party.
3. The signature in the letter is NOT mine.
4. The New Patriotic Party is a peaceful and law-abiding party and will NOT engage and meddle in security issues regarding elections in this country whatsoever.
5. The alleged letter is NOT referenced.
6. Suffice to say, my identity is Sammi Awuku and not Sammy Awuku as the letter suggested.
This circulation is a clear indication of miscalculated propaganda to sway the attention of discerning Ghanaians from the good works of President Akufo-Addo led administration and plunge dismay in the midst of the citizenry.
I kindly disassociate myself from this issue and also entreat all to disregard this letter as there is nothing of such a kind.
Thank you.
Signed
Sammi Awuku