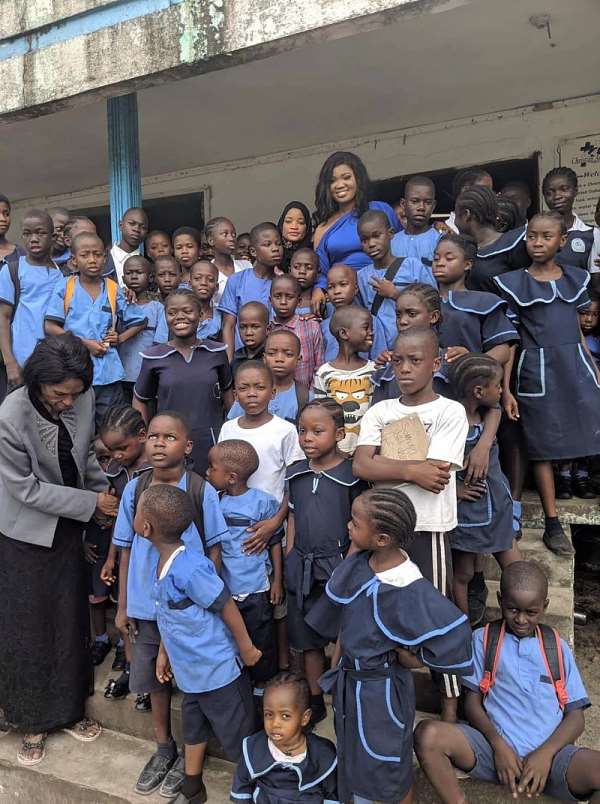 The Assistant Gender, Children and Social Protection Minister for Administration has put smiles on the faces of several orphans and students in Monrovia.
Assistant Minister Mamensie Kabba as part of her birthday festivities donated bags of rice with thousands of Liberians Dollars to the Rock of Divine Orphanage Home in Paynesville, Monrovia.
Presenting the donation, Minister Kabba inspired the orphans to use education as a compass to achieving their dreams.
"I know what it means to be without parents, I too lost mine but let it not deter any of you from pressing through in life", the Minister added. "Let my story inspire you that anything is possible once you are focus, if I can be a Minister today you too can be more than a Minister tomorrow", Minister Kabba concluded.
Receiving the donation, Madam Fatu K. Smith proprietress of the school expressed her institution's thanks and appreciation to the Minister for identifying with the kids especially doing so without being asked.
Madam Smith said every time one identify with a person in need he or she stores up blessings from God.
"If everyone can do what you did, Liberia will definitely be blessed and developed", the proprietress ended.
Minister Kabba also made stop at Zinah Hill Community in Paynesville where she met with dozens of women who crush rocks to survive.
Touched by the hard labor these women go through daily just to put bread on the table and send their kids to school, Minister Kabba gave bags of rice and cash to the women.
"It's better to come here and share the little I have with you than to buy alcohol and invite privilege few friends to celebrate my birthday with", the Gender Assistant Minister said to the women.
"My mother was an ordinary market woman who faced the harsh reality of life but yet managed to send me to school. I see my mother in you all, I will always check in with you people once in a while and identify with you in whatever way possible", the kind-hearted minister told the women.
The jubilant women heaped praises on the Minister and beseeched God's bountiful blessings upon the life of the young Minister and thanked President George M. Weah for providing opportunity for young people to serve their country.
The birthday celebrant climaxed the day by identifying with her alma mater (Liberia International Islamic School) in Doe Community where she donated dozens of copy books to hundreds of pupils.
"I have engraved my photograph on these copy books to serve as a motivation for you all, every time you see my photograph let it remind you that I too was seated in the same chair you are in now and today I'm a Minister", Hon Kabba inspired the students.
The minister made it cleared to the students that it took her hard studies, discipline and courage to attain the achievement she has now.
In a brief remarks, an Administrator of the Liberia International Islamic School Mr. Fuord M. Kaba thanked the Minister for looking back. According to Mr. Kaba, he's not surprised that Mamensie is given back to her school because he saw leadership and a benevolent spirit in her when she was a student of the school.
Mr. Kaba encouraged the Minister to always remember yesterday as it is the surest way to appreciate today and plan for tomorrow.