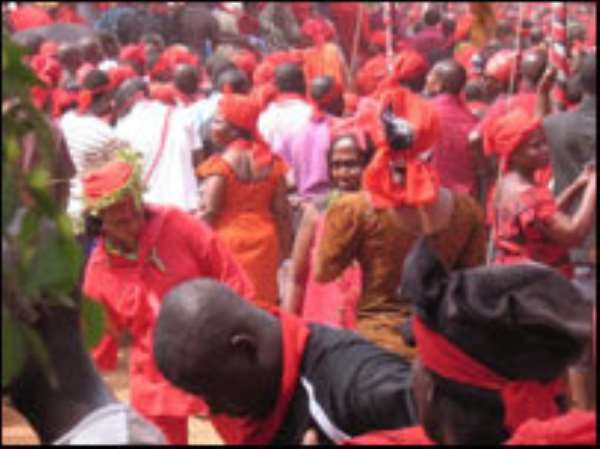 Much as I can't get my head around why Ghanaians are dying in their greater numbers every month in Ghana, I am never deterred one bit in my search for the actual reasons. Why should about twelve to fifteen people die and be buried every month in Kumawu? Same goes for other towns of similar size. However, that was not what was happening about thirty to forty years ago. It could simply not be down to the fact the populations of the towns in Ghana has increased in direct proportion to the number of deaths occurring. No!!!
If say, the population of Kumawu has increased tenfold, the death ratio has gone up to twentyfold, thus, 2:4.
In my previous publication on same subject, I explored some of the possible reasons for the shocking increase in the number of deaths taking place in Ghana on daily or monthly basis. In this write-up, I shall bring up other possibilities as the causes of the deaths. Whatever the true reasons could be, we have the obligation as a nation and people to find solutions to reduce the deaths before we become extinct, only for Ghana to be repossessed and repopulated by foreigners, especially, the Chinese.
In Ghana today, unlike in the 1950s to mid 1980s, the people have taken to consuming greater amounts of all sorts of assumed sexual-enhancing drugs and concoctions in what they have come to classify as locally-manufactured or imported bitters. Only God knows about the number of different bitters on the Ghanaian market today. Bitters have existed since the foundational history of Ghana but not in diverse forms and in such an exceedingly high consumption rate by so many Ghanaians as they are today.
With the Ghanaian desire to gain quick buck, could some of these bitters not be somehow adulterated to cause gradual internal organs damage, hence illnesses to their consumers, to gradually but surely speed up their journey into their graves towards their final destination to heaven or hell? Are all the bitters certified as good for human consumption by the Ghana Food and Drugs Authority? If yes, were any of such certifications not induced by bribery or corruption of some sort? The is because I can't trust most of my people that much to do any credible job without underhand deals or kickbacks simultaneously taking place to render the end decision or objective less effective, if not ineffective.
Why should all our airwaves be saturated with advertisements encouraging people to take to bitters to enhance their libido? Whilst our White contemporaries are exploring the outer spaces for the common good of humanity, here is the Ghanaian only thinking about how best to maximise the enjoyment they derive from sex. Sorry to ask, are we that bestially stupid?
Going a bit biblical, in Matthew 4:4 it is said, " Jesus answered, "It is written: 'Man shall not live on bread alone, but on every word that comes from the mouth of God." Why is it that Ghanaians of today feel their private organs were made only for their self-gratification hence diving for whatever bitters that come onto the market with the alleged likelihood to better one's sexual drive? Does too much sex not weaken the body? Are there not many sexually transmitted diseases out there? Do these diseases not cause harm to the body to gradually lead to the deaths of their sufferers if left untreated for long?
Many Ghanaian youths of today, especially those living in the villages, have taken to drinking excessively the locally manufactured alcoholic drink – "Akpeteshi". As usual, some manufacturers have defied convention by using rusted nails and metals and fermented sugar rather than fermented palm wine to make akpeteshi. Does using rusted nails to make "akpeteshi" not pose any health risks to the consumers? What about those drinking "akpeteshi" with its higher percentage of alcohol on empty stomach? Will it not cause them ulcers or damages to their internal organs?
Most of my friends back home in Ghana who took to drinking too much "akpeteshi" are all dead. I would love to mention their names but for the respect I had for them and in order not to revive the pain of their loss to their families, I shall not.
Those people claiming to have the power to make others rich overnight whilst they themselves are poorer, are understood to probably use some human parts for that purpose. If it is true as alleged, with some murdered persons found with some of their body parts missing, why don't we ban the money-making prophets, mallams, and juju men from the system? If we can't arrest them to prosecute, at least there must be laws to ban them from advertising their services on air. I certainly believe this nonsense can never happen in President Paul Kagame's country, Rwanda. They directly contribute to the deaths taking place in Ghana.
Some pastors, prophets, mallams, and fetish priests claim to have the powers to cure the sick. Subsequently, most ignorant Ghanaians prefer taking their sick first to these people to heal them. They at times leave them in the care of these quack healers until the sick person(s) die. Why not first take the sick to the hospital and then complement the person's healing with a help from the religious heads according as your belief and faith go rather than leaving the sick totally in the care of the listed persons only to see the sick die at last?
The non-professional and deplorable attitudes of our drivers on the roads coupled with the corrupt and unethical behaviours of the police on the roads raise eyebrows. Drivers overspeeding, overtaking where they shouldn't, intermittently dozing off behind the steering wheels due to tiredness, drunk and their total disregard for driving codes and road signs as well as the love of bribery by the police when checking drivers on the roads contribute to the deaths. The police are mostly by the roadside or on the roads taking bribes from motorists instead of checking to ensure that all is in order with the driver and his/her vehicle. These combined acts of unprofessionalism bring about road accidents thereby increasing the ongoing worrying deaths in Ghana.
Armed robbers also contribute to the deaths by oftentimes killing their victims.
All in all, the lack of enforcement of the laws of the land, is a major cause of the deaths going on in the country. If imported foods and drugs coming into the country are regulated, properly checked and tested by the very people and organisations appointed to superintend their authenticity for human consumption, the diseases they give to cause death to people will be greatly reduced. The police are paid, yet they take bribes thereby encouraging drivers not to service their vehicles to finally culminate in fatal road accidents.
Armed robbery could be reduced to the barest minimum were laws to be properly enforced in the country. Corruption has made every Tom, Dick and Harry to commit crimes that can eventually cause death to people, with impunity.
I shall be greatly disturbed if it turns out that some people are having a secret agenda to exterminate Ghanaians in our own land with the intention to repossess our land.
Let us cut back on our cultivated taste for foreign products to rather enjoy the made in Ghana products or foods to avoid falling into the deadly traps by whomever, if there are any such traps set for the extermination of Ghanaians or Africans.
I shall be back on this subject. I need to sensitize my people to the likely causes of the many deadly diseases in the country and the causes of the many deaths currently going on in Ghana.
I dedicate this publication to one unknown Joe Atiso and the ever blessed memory of my late Kumawu Tweneboa Kodua Secondary School form mate (classmate) Hannah Bonsu.
Rockson Adofo
Sunday, 27 October 2019