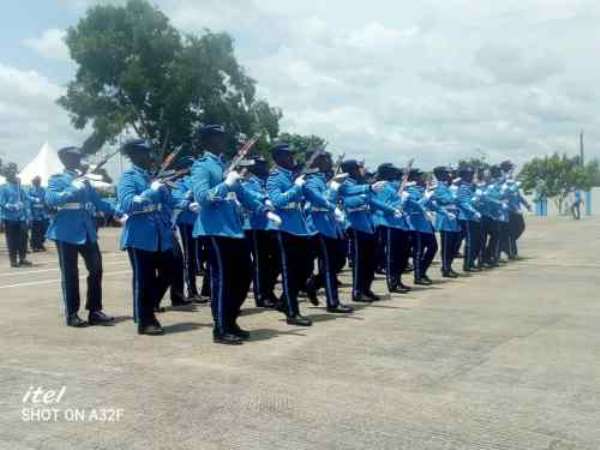 A total of two hundred and twenty-two custom recruits have passed out from the Kpetoe Academy of the Ghana Revenue Authority, at a ceremony held on Friday.
The graduands comprise 51 senior cadets of course 01/2019 and 171 junior cadets of course 08/2018, who have undergone intensive training of seven and ten months respectively.
Addressing the ceremonial parade, Acting Commissioner-General, Mr. Ammishaddai Owusu-Amoah (the reviewing officer), implored the officers to cultivate the habit selflessness and spirit of sacrifice in their service to the nation.
He said "... having gone through this course, your individual and collective aspirations and expectations for wishing to join the Customs Division have been met. But this is only the beginning. It's therefore your duty to justify the huge expenditure that has gone into your training. I expect you to do this by showing total selflessness and the spirit of sacrifice for the nation".
Mr. Ammishaddai noted that the success of government's vision of Ghana Beyond Aid depends so much on the performance of the GRA, thus the need for the new officers, to exhibit a high sense of duty.
He also appealed to the graduands to eschew such bad attitudes that may indict the professional ethics of the GRA.
"I, therefore, appeal to you to eschew the get rich quick attitude, so that together we build our dear nation to the enviable standards we all dream of and also to enable you become true professionals and exhibit the required behaviour at your collection and stations, where you would be exposed to compromising situations. I urge you to acquaint yourselves with the GRA code of conduct and the collective bargaining agreement".
Among the awardees on Friday, Emmanuel Tetteh and Daniel Aboagye emerged as the overall best cadet officers for the junior and senior cadets respectively.
Source: Faisel Abdul-Iddrisu | [email protected]