Northern Region Prepares For The Upcoming Referendum Campaign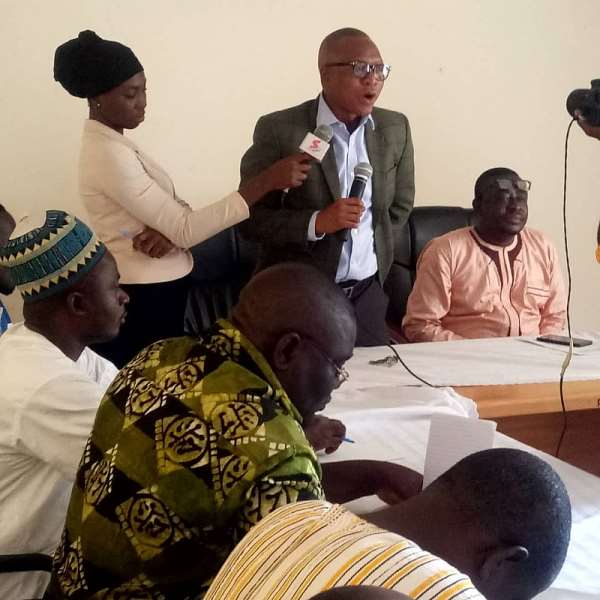 Information Officers in the Northern region attend a training workshop on the upcoming referendum on partisan participation at the local level elections. The Northern region on 21st October, 2019 played host to information Officers from the North East and Savannah rgions at the Northern Rgion Coordinating Council. The training was organized as part of the preparations to equip officers with the required strategies and message as they prepare to educaticat the public on the upcoming referendum.
In his welcome remarks, Mr. Ahmed Husein, the Ag. Northern Regional Information Officer iterated that the Nana Addo led NPP Government's quest to deepen the country's democratic process, had in their 2016 manifesto, a policy proposal to elect our MMDCEs and partisan participation at all local level elections.
Mr. Ahmed Hussein stated that the government has initiated processes to amend Articles 243 (1) and Article 55 (3) to allow for election of MMDCEs and the partisan participation at all district level elections respectively. He added that the Article 55 (3) is an entrenched constitutional provision which cannot be amended by any means other than putting it to a referendum as the 17th December has been slated to enable the electorates decide whether or not the local level elections should be organized and participation on partisan basis.
Mr. Alhassan Issahaku, the Chief Director for the Northern Regional Coordinating Council represented the Regional Minister. He acknowledged the role of information officers especially in the dissemination of information on government policies. ' Information Services Officers constitute an important segment in the dissemination of information', Mr Alhassan Issahaku stated.
He observed that sometimes the officers do not receive the deserve reward from the Metropolitan, Municipal and District Assemblies because they are seen as non decentralized departments. He encouraged the officers to still emplore their professionalism and remain a political to serve any government that was in power. Mr. Alhassan Issahaku expressed optimism that officers of information service in the northern region will be able to reach out to the electorates to improve the percentage turn out of voters and subsequently get a very high percentage voting to get the policy through. The Chief Director advised the officers to liaise with their MMDCEs to come out with workable plans to ensure a successful referendum come 17th December, 2019.
The resource persons Mr. Amadu Mustapha (Savelugu Municipal Information Officer) and Mr. Ahmed Husein, the Ag. Regional Information Officer, took the participants through the public education campaign.
Muniru M. Latif