FESOJ welcomes Puntland's abandonment of the case against a detained journalist and MAP's efforts to secure the release of the journalist.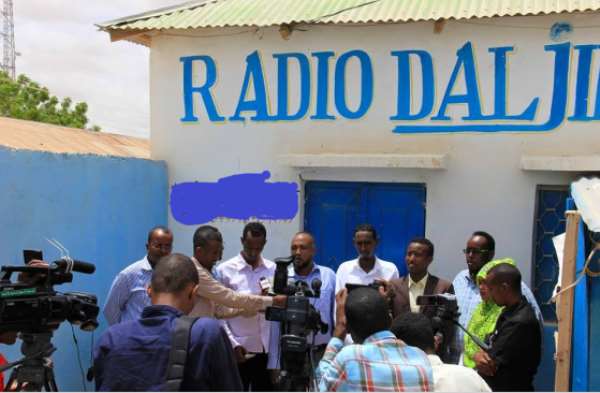 Mogadishu- Wednesday 23 October, 2019 - The Federation of Somali Journalists (FESOJ) welcomes the release of a journalist Ahmed Sheikh Mohamed who was detained in Garowe for the past five days, and we believe that his arrest as an attempt to press the independent media to avoid reporting the facts and realities on the ground.
The release of the journalist Ahmed Sheikh Mohamed (Tall Man) on late Tuesday came after win-win negotiation efforts made by Media Association of Puntland (MAP) in reference to the recommendations by two defending lawyers of the detained journalist.
Ahmed Sheikh Mohamed aka (Tall Man) was arrested on Thursday 17 October from his home in Garowe with the order from Puntland police chief, General Muhidin Ahmed Muse and since then he was arrested at Garowe central police station.
"FESOJ welcomes the release of detained journalist and Puntland's drop the case against journalist Tall Man, we note that these arrests and detention are unlawful and an outright violation of their freedom of expression and media freedoms. We call on the Puntland government to respect fundamental human rights and hold all those responsible for intimidating journalists accountable," said Mohamed Ibrahim Moalimuu Secretary General of Federation of Somali Journalists (FESOJ)
Meanwhile, FESOJ commends to Media Association of Puntland (MAP) for its leading role in ending this case by hiring two professional lawyers defending the journalist in front of the law.
FESOJ encourages all working journalists in Somalia not to be afraid of reporting factual information but we must always keep in mind the fundamental principles of ethical journalism and ask all sides for their side of the story before publishing, especially in the areas where the public are at greater risk of constant terrorist acts.
FESOJ is also grateful to the Netherlands-based Free Press Unlimited for its continued legal aid for press freedom and the continued support of Somali journalists.
The continuing media crackdown and closure of media stations and journalists is jeopardizing press freedom and freedom of expressions which are fundamental core elements of the enjoyment of basic human rights in Puntland.