A/R: MTN Donates 600 Maths Textbooks To Two SHSs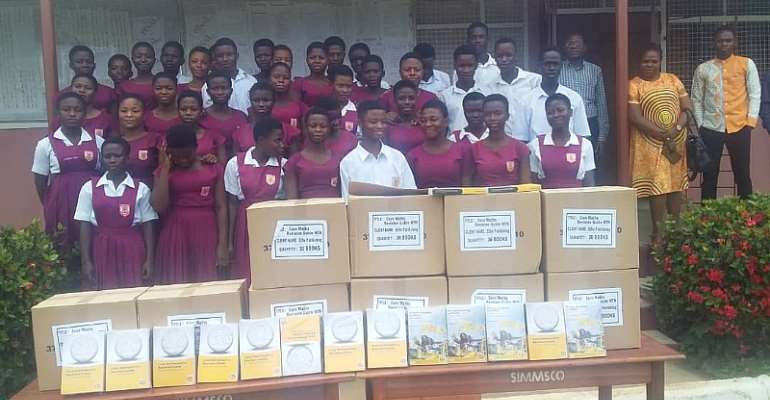 MTN Ghana has donated 600 pieces of Core Mathematics textbooks to Bonwire Technical and Simms Senior Secondary Schools all the Ashanti region.
Each of the secondary schools received 300 books in a separates short ceremonies on various campuses.
Presenting the books, Mr Simon Amoh, Acting General Manager for MTN-Northern Business District said the company was committed to investing in the lives of the people.
The donation according to Mr Amoh forms part of MTN'S three-pronged social responsibility focus of investing in education, health and economic empowerment.
He pledged the company's commitment to repeating gestures such as book donations as and when it receives appeals or determines the need of same in other secondary schools in the country.
The Acting Manager mentioned that MTN was replicating similar donation in six schools in the country with 6,000 books at a cost of GHC60,000 to be donated.
"MTN is giving these books to inspire our brothers and sisters at these six senior secondary schools to take lessons in mathematics serious so as to record excellent grades in same," he stated.
Receiving the items, Madam Cassandra Osei Wusu Antobreh, Headmistress of Bonwire Secondary Technical Secondary expressed gratitude to MTN for the gesture, saying "this will go along way to enhance education."
She, however, asked for more of such textbooks to meets the needs of the rising 2,100 students.
She mentioned lack of infrastructure to accommodate the huge numbers as worrying.
The Headmistress said most of the furniture on campus is broken and would need some urgently to replace them so that students can sit comfortably to learn.
On his part, Mr Eric Adom Marfo, Headmaster at Simms Senior High commended MTN profusely for the gesture and noted that the donation will help the students to have access to enough books to study.
The availability of books, he noted will encourage students to learn to get good grades.