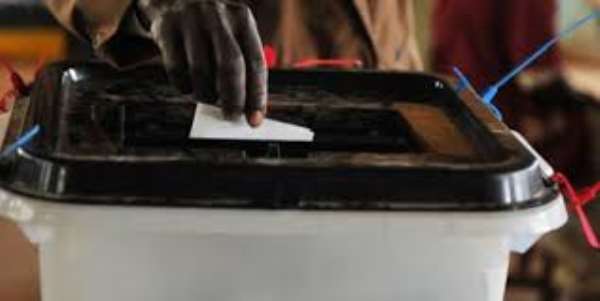 Some unidentified persons have vandalised the office of the Electoral Commission in Krachi Nchumuru District of the Oti region.
The burglars assaulted one Philip Kholi, an official with the EC who was sleeping in the office at the time of the incident and made away with two ballot boxes containing ballot papers from the just ended parliamentary primaries of both the New Patriotic Party and the National Democratic Congress.
Confirming the incident to Awake News, DSP Gyan Mantey Frimpong said "we received a distress call at 1:45am on Monday night that some unidentified persons broke into the office of the Electoral Commission. Upon reaching there, we met an official on the scene who was unconscious, we also discovered that two ballot boxes were taken away from the room".
The two ballot boxes were later found empty in an uncompleted structure just 60 meters away from the crime scene, as narrated by the police.
DSP Gyan disclosed that the police are yet to get any information from the victim, who has since not gained consciousness as of the time of the interview.
The victim has since been on admission at the Kete Krachi government hospital receiving medical attention.