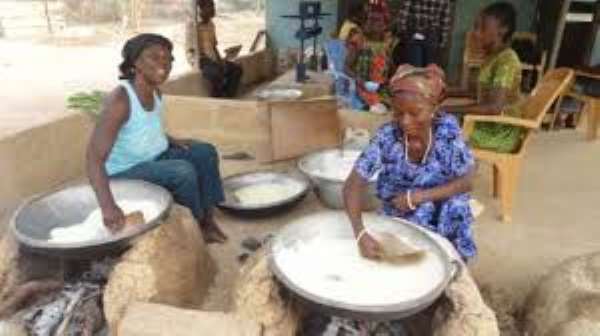 Background of Agriculture and Land use in Ghana
Agriculture plays a vital role in Ghana's economy and has a great impact on poverty reduction. It is also critical for rural development and cultural values, social stabilization, environmental sustainability and buffering economic shocks. The sector currently provides employment for about 44.7% of the total workforce in the formal and informal sectors. The main agricultural commodities include root and tubers, cereals, tree plantation crops such as cocoa, oil palms and shea, horticultural crops (mainly papaya, pineapples, mango and vegetables), livestock and fisheries.
Agriculture in Ghana is predominantly a smallholder activity. About 90% of farm holdings are less than 2 hectares in size, although there are some relatively large farms and plantations, particularly for rubber, oil palm, banana, pineapple and coconut and to a lesser extent, rice, maize and cocoa. Ghana's primary cash crops are cocoa, oil palm, pineapple, mango, cassava, tomato, banana, citrus, cashew and vegetables.
Over the years, the Government of Ghana has been implementing policies and programmes to promote growth and development of the agriculture sector. These include the Ghana Shared Growth and Development Agenda (GSGDA I and II), Food and Agricultural Sector Development Policy (FASDEP I and II), Medium-Term Agricultural Sector Investment Plan (METASIP I and II) and in recent years Planting for Food and Jobs, Planting for Export and Rural Development (PERD) among others. One of the government's main objectives in the crops sector is to enhance the competitiveness and profitability of crops through enhanced access to improved technological packages for increased productivity and to ensure sustainable management of the environment.
The agricultural sector offers a unique set of advantages to investors including a varying range of agro-ecological zones amenable to production of different crops. Ghana has fertile soils suitable for agricultural production. The total land area of about 23.9 million hectares includes about 14 million hectares of agricultural land area, out of which 6.3 million is under cultivation, (MoFA, SRID 2016). There are adequate water resources, both surface water and underground water, for irrigation. The area under inland waters is about 1.1 million hectares.
Agriculture is one of the predominant sectors in Ghana's economy. The sector is composed of five sub-sectors: crops, cocoa, forestry and logging, livestock and fisheries. The 2014 Agricultural Sector Annual Progress Report by MoFA, indicated that, for the preceding five years, food production in Ghana showed an upward trend, thus increasing the country's progress towards complete food self-sufficiency. Generally, production levels of major food crops (rice, cassava and yam) increased, except maize output which declined marginally due to the high cost of agricultural inputs and poor weather conditions in some parts of the country which made most farmers in the northern sector shift to crops that are drought tolerant and not heavily dependent on fertilizer (millet and sorghum). Sadly, in recent years, this trend is changing negatively because of the advent of cash crops like cashew, mango and citrus among others.
Profile of The Techiman North District Assembly (TeNDA)
The Techiman North District is one of the 254 Metropolitan, Municipal and District Assemblies (MMDAs) in Ghana, and forms part of the 29 of Municipalities and Districts in the Brong Ahafo Region. It was established by the Legislative Instrument (LI 2095) and was duly inaugurated on Thursday, 28th June, 2012 with Tuobodom as the District Capital.
It was carved out of Techiman Municipal Assembly to ensure and strengthen decentralization and effective grass root participation in governance at the local level and bring development to the doorsteps of the people. The District is made up of sixty-four (64) towns and villages. This number includes the five (5) major towns, namely; Tuobodom, Offuman, Aworowa, Krobo and Buoyem. Most of the settlements in the District are located along the two (2) main arterial roads in the District, that is, the Techiman-Wenchi and Techiman-Kintampo routes.
The population of the TeNDA is estimated at 59,068 (2010 census) comprising 28,766(48.7%) males and 30,302(51.3%) females. The population density is estimated at about 152 persons/Km2. The population of the District has witnessed rapid increase over the years. This increase in the population can be attributed significantly to the fertile land in the area which attracts a lot of migrant farmers mostly from the northern part of the country. Also, the strategic location of the District, that is, its nearness to the major market center – Techiman, makes it lucrative for marketing of farm produce and small-scale businesses.
About 66.2 percent of the population aged 18 years and older are economically active while 33.8 per cent are economically not active. Of the economically active population, 86.6 percent are employed while 13.4 percent are unemployed. For those who are economically not active, a larger percent of them are students (72.8%), performing household duties (19.8%) and disabled or too sick to work (7.1%). About six out of ten of the unemployed are seeking work for the first time.
Of the employed population, about 86.7 percent are engaged as farmers and agro processors, 10.9 percent in service and sales, and 2.4 percent in craft and related. A higher proportion of males (87.3%) are engaged in farming than females (67.7%)
Agricultural Land use in the Techiman North District
Techiman North District, a District known as one of the major food baskets of Ghana, and a predominantly farming area, is experiencing the sprawl phenomenon. Agricultural lands, which serves as the main source of livelihood to majority of the inhabitants in the District, has been encroached by the process of urban sprawl. A major result of this phenomenon of using land meant for food crops for commercial or cash crop farming. This Advocacy focuses on assessing the impact of commercial crop farming and the demarcation and protection of Agricultural lands for local economic development in the Techiman north municipality.
Contrary to the mainstream view that the diversion of land use towards cash crop farming is as a result of encroachment from the wealthy in the society, it has been found that most farmers including those that engage in subsistence farming the past are all diverting to a more sustainable means of earning income hence the major foray into cash crop farming. Most of the respondents seem to indicate that they are willing delving into the new culture rather being forced into it. The study also reveals that the gradual shift from food crop farming in the District is rapidly consuming farmlands in the fringe rural communities. This has resulted in some of the crop farmers diverting to cash crop farming.
Apart from the likelihood danger looming over the food crop farmers over land space, there could also be suspected food insecurity in the near future due to rapid loss of farmlands to government and private estate developers. Food insecurity would lead to low standard of living that emanates from low income of farmers. In this case, affected farmers would have to adjust their livelihood by shifting to different ventures. There are traces of these situations in the TeNDA. The current sporadic surge in cash crop farming: mainly cashew and also cocoa in the district needs to be researched because there is a possibility of local small-holder farmers becoming urban poor people through the elimination of farming livelihoods
Land Tenure system and its effect on Agriculture
Land tenure system is perceived as a one of the contributory factors for the rapid urban sprawling in the study area. For fear of losing a land that belongs to individuals or families, landlords sell a large parcel of land to individual tenants, wealthy cash crop farmers, government agencies and other land users. Perhaps, this is done by the landlords to avoid future land litigations. Moreover, in Ghana, most traditional structures put men in the fore front in land ownership.
Rather than applying crisis management through ad hoc responses, the government should consider how they can strategically position themselves for changing urban food requirements and the need for supply strategies and systems in the short, medium and longer term so that they will continue to be able to feed their increasingly urban societies. Policies are needed in the protection of agricultural lands, land rights and agricultural livelihoods of the poor. Solutions can then be found in improving infrastructure to facilitate inputs into agriculture and outputs from agriculture to cities. In this respect, the role of stake holders such as the District Assembly, Agriculture Extension Officers and Traditional and Opinion Leaders need to be elicited to find out what they are doing in providing livelihood security to the food crop farmers.
The problem facing the Asuogya Cooperative Agro Processors and Farmers located in Asueyi in the Techiman North District of Ghana is that they are not only losing their crop-farming lands to cash crop farming which is a danger to food security in the future, but there is also the very possibility that, no raw materials (cassava) will be available to feed their gasifier plant (which is the biggest in West Africa) when it becomes operational.
The Asuogya Cooperative Agro Processing and Farming group is now conducting this research to interrogate the issues affecting farmers and gari processors and to help enforce laws that demarcate and protect lands meant for food crop farming in order to mitigate the problem.
Recommendations to Address the decline
It is to help address this challenge that the Asuogya Cooperative Agro Processing and Farming group with support from the BUSAC-Fund is embarking on this Advocacy to demarcate and protect Agricultural lands for local economic development. As part of the advocacy process, A study conducted by the Association to interrogate the issues related to agricultural land use to help bring solutions to address the challenge.
The study recommends the demarcation of agricultural lands into cash crop farming and food crop farming for efficient management and protection of the dwindling crop farming space.
Again, it is also critical to develop the capacity of government institutions responsible for public and private lands administration and development while harmonizing their functions under a single management authority to reduce institutional bottlenecks that promote duplication and overlapping roles in all land management institutions in the country.
More importantly, it is recommended that government through the traditional leaders should as a matter of urgency acquire some parcels of land that would be designated purposely for food crop farming activities in the Metropolitan/Municipal/District Assemblies (MMDAs) where farming is the mainstay of majority of the inhabitants, especially those at the peripheral areas of major cities in Ghana. This is a necessity if Ghana wants to maintain agricultural as the largest employer of its populace. Also, any land acquired by government must be registered dully to avoid encroachment, and compensations dully paid should anybody be affected.
The MMDAs through their composite budget has the agricultural sector under it, they must continuously come up with program interventions like: Creation of markets for food crops, supply of inputs to food crop farmers, price regulation of farm produce among others to encourage farmers not to completely shift away from food crop farming.
There is a need for dialogue sessions between the traditional leaders (who own majority of the lands in Ghana) and the assembly to educate them on the need to make lands accessible for food crops.
Finally, there is the need to identify strategic land banks that chiefs should reserve for food crop farming only.
Conclusion
The phenomenon of shift from food crops to cash crops is not a new phenomenon in the country, the indigenes indicated that they have a knowledge of the possible problems it could bring. The major factor causing this phenomenon is the desire to attain a more reliable source of income.
There were earlier interventions to solve the problem in other parts of the country but they did not yield much results because of the lack of coordination among institutions mandated to manage lands in the country. Economically, the phenomenon has led to reduction in crops yield and food supply that has emanated from loss of farmlands. This has resulted in the reduction in farmers' income. The possible aftermath effects of reduction in crops yield and food supply is food insecurity. Food insecurity would cause famine, high food prices, poverty, loss of government revenue and inadequate provision of social amenities. (Source: Philip Ankomah)