V/R: Akatsi North District Cuts Sod For Two Separate School Projects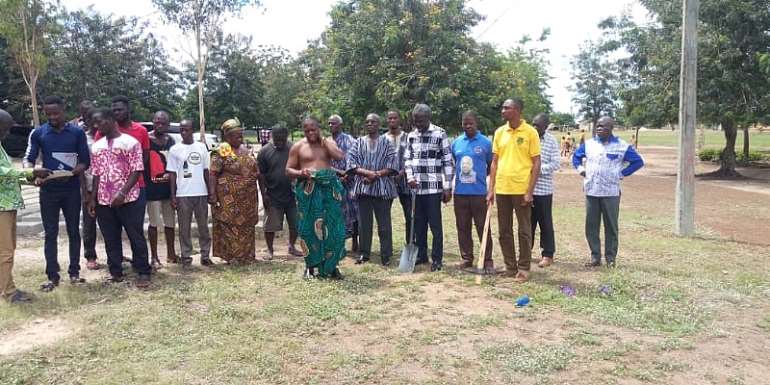 The District Chief Executive of the Akatsi North District, Hon. Dr. Prince Sodoke Amuzu was joined by the MP for the area, Hon. Peter Nortsu-Kotoe on Monday to cut sod for the commencement of the construction of a 2-unit classroom block for Ave Kpeduhoe D/A Basic Kindergarten and another 6-unit for the Ave Afiadenyigba Islamic Basic School.
The projects with an estimated cost of Gh¢ 300,000 and Gh¢ 450,000 respectively, are funded by GETFUND and are expected to be completed within a period of 6 months.
The 2-unit block for the Kpeduhoe D/A Kindergarten would have an office, a store and a washroom facility attached
According to Dr. Sodoke, though the district has a number of challenges, the area of education and health are the two key areas of focus since these two have direct implications on the people of the District.
"Indeed we have challenges, one of which is the issue of poor roads but the idea is to put our monies into things that would directly impact the lives of our people and that's why we are building school infrastructure, health facilities and giving farm inputs to farmers in the district. These are the areas the focus is for now, so as to empower our people economically", he said.
He noted that there are a number of such projects, including CHIP compounds at completion stage throughout the district. He cited places like Agormor and Zemu, where he said some health facilities are being built and also Hadave, Nuaxove and some other places where he said some school projects are underway or at a completion stage.
On his part, the MP, Hon. Peter Nortsu-Kotoe said the project is meant to reduce the plights of school children, who do not have enough space of comfort for studies.
He announced that a similar sod cutting event would be done by the assembly on Friday 25th October, at Posmunu for the construction of another school block.
Hon. Kotoe added that, the district is doing well in reducing the infrastructure deficit in the area of education to enhance quality teaching and learning.
The two separate events took place in the presence of some community leaders, members of the assembly and chiefs.