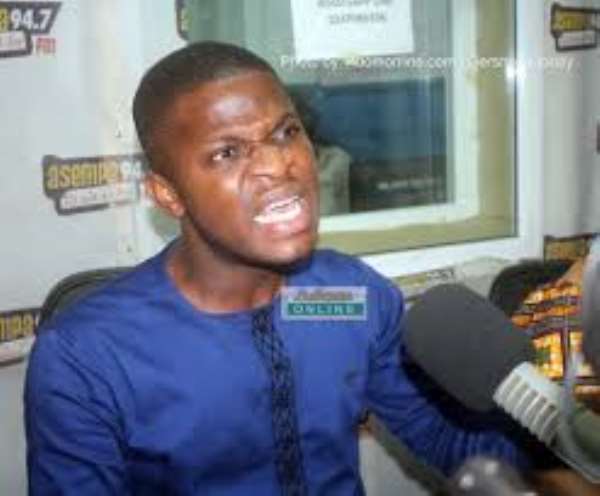 The Communications Officer of the opposition National Democratic Congress (NDC), Sammy Gyamfi has said the recent controversies surrounding the Electricity Company of Ghana (ECG)'s Concession Agreement with Power Distribution Services (PDS) which has resulted in its abrogation should be blamed on the President and his government.
Speaking in a phone interview this morning on Neat FM's programme, 'Ghana Mo Tie', he indicated that the corruption in this government has led us to the situation at hand.
The vociferous Communications Officer underscored that the Akufo-Addo led government can never be trusted to fix this problem indicating that even the US government doesn't have any trust in this Akufo-Addo government.
"Akufo Addo's government is allergic to our procurement processes. When you hear the New Patriotic Party (NPP) talking about restrictive tendering and sole sourcing, then you will realize that they have corruption in mind. Ken Ofori Atta shouldn't use his selfish interest to destroy the relationship we have with US since time immemorial."
He indicated that the NDC is strictly against the restrictive tendering that the government has resorted to do and urged all well-meaning Ghanaians to stand against that move.
He added that government has intended to rush the whole process again to which the NDC believes it isn't going to be transparent.
"If we want ECG to be privatized, it has to go through a transparent process or competitive process in order to get a competent company other than PDS. The restrictive tendering that they have resorted to is a way of cooking the ECG concession for the family and friends of President Akufo Addo and his cronies and Ghanaians must reject that."
It was reported over the weekend that the government of Ghana has terminated the Concession Agreement with ECG and PDS to which government is expected to make a formal announcement on that in the coming days.
The Government of Ghana on August 5, 2014 signed the second Millennium Challenge Corporation Compact which is the largest U.S Government – funded transaction of former President Obama's Power Africa initiative. It was dubbed the Ghana Power Compact which seeks to double access to power on the African continent- with the Government of Ghana.
It would be recalled that the government of Ghana on July 30, 2019 announced the abrogation of the contract with PDS barely six months after taking over from ECG. The decision was communicated by the Information Minister Kojo Oppong Nkrumah through a press release. The statement partly read, "the detection of fundamental and material breaches of PDS' obligation in the provision of Payment Securities ( Demand Guarantees) for the transaction which has been discovered upon further due diligence".