Hon Matthew Nyindam To Go Unopposed In The Kpandai Constituency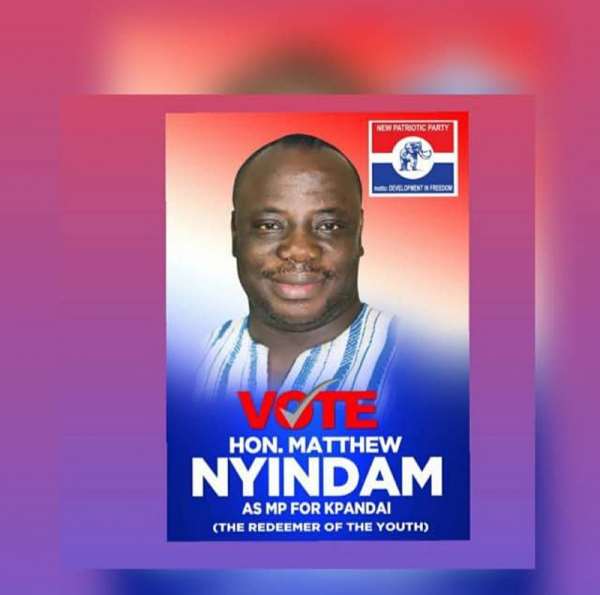 The *Voiceless Media* can report that Hon Matthew Nyindam, the current NPP MP for the Kpandai constituency of the Northern Region will go uncontested when the NPP opens nominations for its Parliamentary Primaries in that constituency next April.
Our checks in the Kpandai constituency show that Hon Nyindam is in the good books of the delegates of the NPP in the area and has been given the overwhelming support by the delegates to go unopposed.
It must be stated that the Kpandai constituency was an NDC safe constituency from 1992 to 2012.
And from January 1992 to January 2013, Kpaidai had only one person who won all Parliamentary elections in the area.
His name was Hon Likpalimor Kwajo Tawiah of the NDC.
Hon Likpalimor was eventually dethroned as MP of the Kpandai constituency in the 2012 Parliamentary elections by Hon Matthew Nyindam.
In the 2012 Parliamentary elections, Matthew Nyindam got 16, 221 votes and Hon Likpalimor who was the incumbent MP pulled 13, 794 for the NDC.
The Veteran Likpalimor attempted to fight back for the Kpandai seat in 2016 but was unsuccessful. He was beaten by the NPP Candidate, Hon Nyindam once again.
In the 2016 elections, Matthew Nyindam of the NPP pulled 19,044 votes to beat Hon Likpalimor of the NDC who obtained 18, 301 of the votes. It was a hot contest.
The NDC is presenting a new Candidate for the Kpandai constituency and Hon Matthew Nyindam, the current MP, will have to develop fresh strategies to retain the seat once again for the NPP in election 2020.
The *Voiceless Media* will put an eye on the Kpandai constituency and will make any new information available to our revered readers.
Source: The Voiceless Media