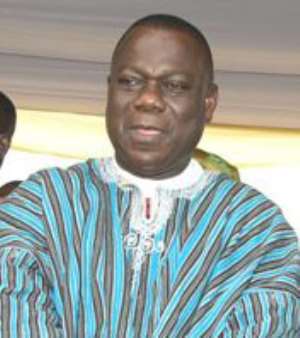 The Convention People's Party (CPP) Presidential candidate for the 2004 election, George Aggudey has accused President Kufuor of being partisan in his address on the 49th anniversary celebration of the Ghana's independence.
Reacting to the President's Independence address on Monday, Mr Aggudey dismissed the president's attempt at preaching unity as futile.
According to him the president was asking Ghanaians to eschew partisanship but ended up being very partisan in his speech.
" He failed to mention the main architect of our independence, which is unfortunate," he said.
Mr Aggudey said there could be no celebration of Ghana's independence without reference to Kwame Nkrumah, the main architect of Ghana's independence.
He wondered why the president made reference to George Padmore and W.E B Dubios as contributors to the struggle to redeem Africa from colonial domination, without mentioning Kwame Nkrumah whose role in that struggle was very significant and hence be commended as well.
Mr Aggudey was however happy with the role Ghana had taken on the African Continent and looked forward to a happy Golden Jubilee next year.
Meanwhile, Ghana's only surviving president, Jerry Rawlings did not attend Monday's occasion.