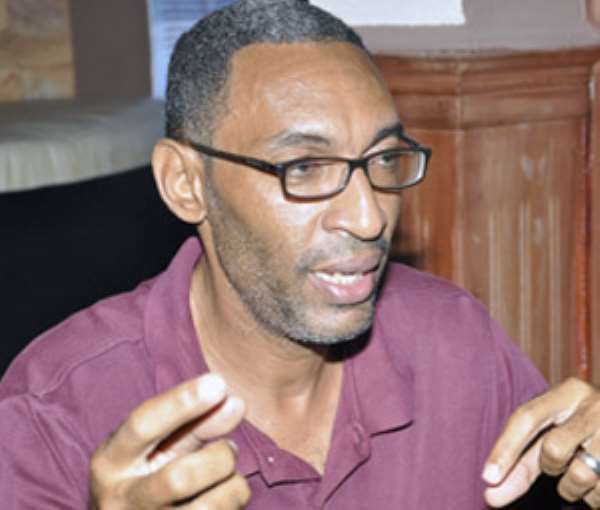 Sekou Nkrumah
Following the broadcasting of an interview on Citi-TV, in which Mr. Joshua Attoh Quarshie, a Danquah-Busia-Dombo traditionalist, lambasted the late former President Kwame Nkrumah, the man who led Ghana to independence from British colonial rule, for having largely concocted some of his most salient personal achievements, Mr. Sekou Nkrumah, the son of Ghana's most renowned and globally recognized leader, was reported to have taken to his Facebook Wall to respond to his late father's critic in kind. Unfortunately, in the process of setting the records straight, the Younger Mr. Nkrumah may very well have overreached himself by characterizing his late father's critic as "an old Ga Fool" (See "This 'Old Ga Fool' Cannot Destroy Nkrumah's Legacy – Sekou Fumes" Ghanaweb.com 10/11/19).
You see, Dear Reader, the problem with the reaction of Sekou Nkrumah to Mr. Attoh Quarshie inheres in the former's rather disturbing and infelicitous attempt to drag the ethnicity of the latter into the equation. And the "equation" here, of course, is the fact of whether Mr. Attoh Quarshie is a "foolish old man" primarily because he is of Ga ethnic descent or heritage, or this ardent and inveterate Nkrumah critic is "a fool" because Mr. Attoh Quarshie has cavalierly presumed to devalue or deprecate some of the admittedly yeomanly and phenomenal achievements of President Kwame Nkrumah. In all likelihood, the Younger Mr. Nkrumah probably meant the latter reference or insolent characterization; which is that Mr. Attoh Quarshie did not exhibit the traits of a very intelligent or wise man because the inescapably vituperative critic had dared to unreservedly attempt to erase the memory and achievements of postcolonial Ghana's first leader from the pantheon of the nation's Founding Fathers.
In principle, I totally disagree with Mr. Attoh Quarshie that Mr. Nkrumah was "a run-of-the-mill hustler" who had acquired absolutely no college or academic and/or professional degrees in life. The evidence is rather too strong and all-too-overwhelming to put to shame even the most knowledgeable detractor of the legendary African Show Boy. You see, personally, this writer has quite a bit of respect and even admiration, as well as fondness, for Mr. Sekou Nkrumah because the latter appears to be the most objective and levelheaded of the children and grandchildren of the infamous dictator. For this reason, Sekou Nkrumah is the least loved Nkrumah scion among the ardent supporters and disciples of Mr. Kwame Nkrumah. Which is why I found it to be rather unfortunate and disappointing that Sekou Nkrumah would so facilely lose control of his moral and critical or cognitive faculties by characterizing one of his father's most virulent critics as an "old Ga fool."
But, of course, I equally found Mr. Attoh Quarshie's characterization of the future President Nkrumah as a hustler who made a living as a toilet-cleaning janitor, while the future Ghanaian leader was a college student in the United States, to be absolutely objectionable, to speak much less about the downright absurd. After all, isn't custodial or janitorial labor one of the most legitimate and honest ways of making a living? On the other hand, I also have some misgivings about Mr. Sekou Nkrumah's argument that Mr. Attoh Quarshie is "a stupid UP [United Party] man" because the future President Nkrumah could not have authored "15 solid political books" without a college degree. Now, that is needlessly stretching matters or the historical reality of the nature of authorship. You see, I could list a legion of great and remarkable writers who never acquired any college degrees, among them the legendary British Africanist historian Mr. Basil Davidson, Mr. James Baldwin, Mr. Richard Wright and Ms. Maya Angelou, among a host of other genius and erudite writers.
But, of course, it is also common knowledge that the authorship of the greatest or most erudite philosophical treatise that has been attributed to Mr. Nkrumah, to wit, "Consciencism," was actually authored by the Oxbridge-educated Prof. Willie Abraham, who is also author of the philosophical classic titled "The Mind of Africa." Indeed, one only needs to examine the striking similarities in the rhetorical syntax and compositional style and tone of the two aforementioned books to conclusively establish the authentic authorship of "Consciencism." We could also quibble over the authorship of the remaining 14 books that are supposed to have been authored by Mr. Kwame Nkrumah. You see, as one who has quite extensively read and studied the writings of President Nkrumah, my sometime role model, I have quite a remarkable knack for readily recognizing the temperament and writing style of the legendary dictator. But, of course, that is the purview or focus of the present column.
*Visit my blog at: kwameokoampaahoofe.wordpress.com Ghanaffairs
By Kwame Okoampa-Ahoofe, Jr., PhD
English Department, SUNY-Nassau
Garden City, New York
October 13, 2019
E-mail: [email protected]