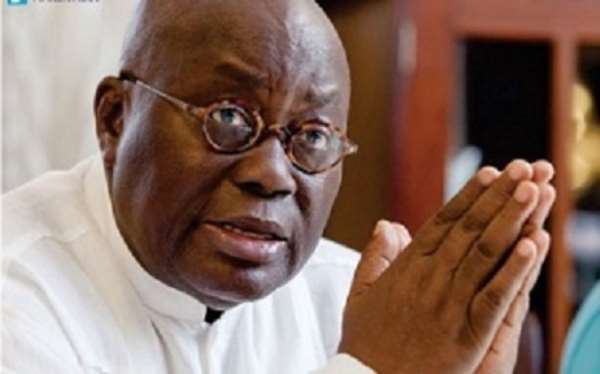 Akufo Addo, the worse Ghanaian leader
Worldwide, many people dream of following their fathers' footsteps in whatever career that made their dads famous, therefore, it's likely that Nana Akufo Addo, the current Ghanaian leader, was influenced by his father.
But the truth is that Akufo Addo is the worst Ghanaian leader, after Kutu Acheampong, since Ghana gained independence in 1957.
No matter how corrupt the previous Ghanaian leader, John Mahama was, you don't have the qualities of leadership than this man that a section of Ghanaians and the media have disgraced so much.
From the time Nana Akufo Addo became the president of Ghana, the only thing which he has done to save him from disgrace is the implementation of free education in the country.
Nana Akufo Addo continues to show immaturity as a leader in not only the project he chooses but also what he says. He keeps on draining the resources of Ghana by giving posts to his inefficient over 110-Ali Baba ministers, who continue to deceive Ghanaians that they are fighting against corruptible-thieves in Ghana.
In the midst of hunger, unemployment and collapsed banking institutions, you chose to build a Cathedral. Your administration is fully filled with your incompetent relatives, who are not even qualified to do most of the jobs, while university leavers are suffering without employment.
According to an article, I read recently, you are a lawyer, yet you don't know the law criminal faces to the extent that you have deemed the criminal Aisha Huang's Deportation a mistake.
In fact, your ministers and relatives, including the so-called K. Okomfo-Akyere Jr, who claims you are his uncle, are not helping you in any way because they keep on supporting and praising your poor leadership and incompetence, in the open eyes of Ghanaians and foreign missions.
You are really a lucky man indeed, to be an African leader because this kind of nepotism and incompetence government can't be tolerated in any country in Europe, not even in any poor country in Eastern-Europe, let alone Western-Europe.
You have deceived Ghanaians of following a democratic form of government, yet your dictatorship instincts have forced you to shut down media houses because you can't stand criticism.
You have put fear in Ghanaians, including journalists, since Ahmed Hussein-Suale was brutally murdered.
However, one thing you must understand is not all journalists are scared of you or fear to die, else one of them will not expose the US government of being responsible for Ebola in Africa.
As corrupt Mahama was, you can never measure up to his success as a leader or what he achieved. You a jealous man to the extent that you have refused to finish the projects the previous government left behind. Even, refused to use the presidential plane, what a greedy jealous man you are?
A new broom, (which is you), can sweep better than the old one but the old one, (who is your father) knows the corners, therefore, you can never be knowledgeable like your father.
You are just a total failure like the K. Okomfo-Akyere Jr, the tribalism hero, fond of saying Fanti this and Fanti that.
It will shock the world if you win the 2020 elections but they will understand because inefficient desperate power-thirsty leaders will always do desperate things to keep power.