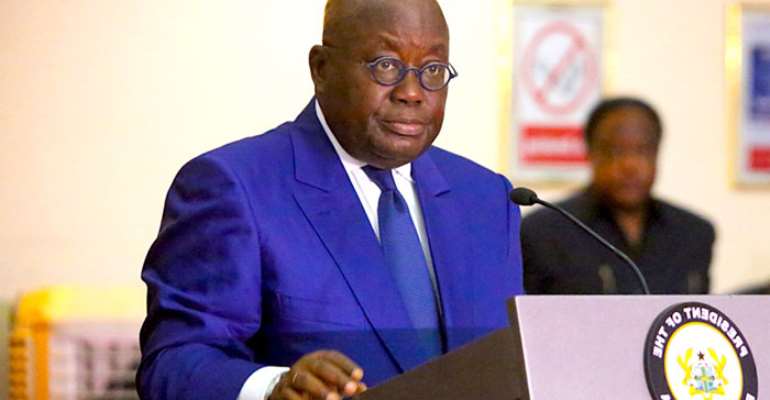 President Nana Addo Dankwa Akufo-Addo on Thursday said government was considering a future use of nuclear energy to reduce Ghana's carbon footprints as part of his government's determination to contribute significantly towards winning the fight against climate change.
The occasion was the 2nd Africa Climate Change Summit held in Accra where he described the issue of climate change as "the biggest threat to the realisation of the SDGs", which has become an issue of grave concern to most leaders across the world.
That, he said, was due to its considerable impact on the fundamentals required for survival on earth.
"We, in Africa, suffer the most because our weak economies are most susceptible to the effects of climate change, and our capacity to withstand its damage is low," he added.
In view of that, he said the Presidency would soon be powered by solar energy as an example to other institutions or public buildings.
With the Global Report on Climate Economy by the Coalition of Urban Transitions launched on the sidelines of the 74th Session of the UN General Assembly, he said "the world faces a climate emergency – but cities offer national governments a solution," stressing that it is in Africa's interests to fight decisively climate change.
"We need to take practical and proactive steps to curb human activities that are endangering our planet. We need to provide solutions that can stand the test of time in Africa. Our work is cut out for us, and we cannot fail," he added.
With the summit bringing together leaders of African cities, President Akufo-Addo explained that Ghana believes acting on climate change cannot be done in isolation.
"It should be a coordinated effort weaved into the sustainable development agenda of our various nations. The Paris Agreement and SDG Goal No. 13 provide the framework for us to forge ahead in this direction," he said.
He told the gathering that Ghana's Nationally Determined Contributions (NDCs) towards combating climate change had been fully incorporated into Government's Coordinated Programme for Economic and Social Development Policies (2017-2024) to facilitate their implementation.
"Indeed, all local authorities have been directed to address climate change adaptation and mitigation actions within their medium-term development plans," he added.
The President said major policy interventions such as the programme for "Planting for Food and Jobs", "One District, One Factory", "One Village, One Dam" being pursued by his government had been implemented not only to boost agricultural production, industrialisation and rural development, but also to build our resilience to the impacts of climate change.
He, therefore, urged African leaders gathered at the conference centre to prioritise climate actions in their local plans.
By Charles Takyi-Boadu, Presidential Correspondent