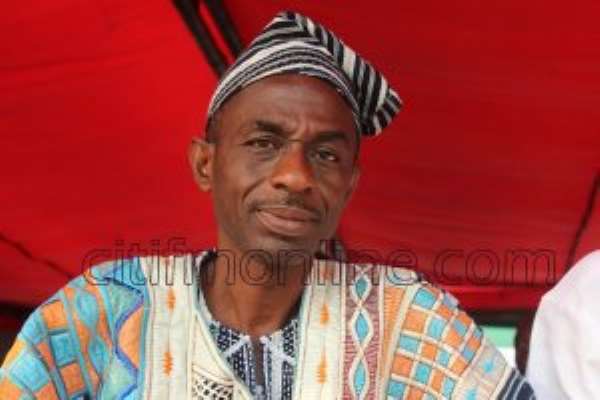 In the wake of former President John Dramani Mahama's cheap and self-serving contradiction of The Asantehene, Otumfuo Osei-Tutu's United Nations' speech in September, in which Nana Osei-Tutu, II, noted that but for the timely intervention of his office, a mercilessly defeated Mr. Mahama would not have quietly vacated power, the dynastic General-Secretary of the main opposition National Democratic Congress (NDC), Mr. Johnson Asiedu-Nketia, has made the claim that unlike his predecessor, that is, Mr. Mahama, then-Candidate Addo Dankwa Akufo-Addo had rudely brushed aside the wise counsel of Otumfuo Osei-Tutu and decided not to concede victory to then-Interim President Mahama, but had instead decided to literally duke it out at the Supreme Court (See "Akufo-Addo 'Rejected' Otumfuo's Advice to Concede Defeat in 2012 – Asiedu-Nketia" Peacefmonline.com / Ghanaweb.com 9/18/19).
No such testimony could be at once more patently false and inexcusably preposterous, especially coming from the very NDC operative who in the wake of the calling of Election 2012 in favor of Interim-President John Mahama, by then Chairman of the Electoral Commission, Dr. Kwadwo Afari-Gyan, apologetically and sheepishly accused Akufo-Addo polling agents, observers and representatives of having let their political betting horse down by not having been vigilant enough. In short, going by his own logic, it would have been simply absurd for the now-President Akufo-Addo to have conceded defeat, when even Interim-President Mahama's own party's Chief Scribe was fully convinced of the fact that Dr. Afari-Gyan had either erroneously or deliberately and, definitely criminally, called the results of the 2012 Presidential Election in favor of the loser.
If, indeed, as his former Election-Time Chief-of-Staff, Mr. Julius Debrah, recently wrote in a media memo, Mr. Mahama promptly conceded defeat to the man whose electoral victory was flagrantly stolen from him by Dr. Afari-Gyan in 2012, then, of course, it goes without saying that this time around, President MacBeth may very well have come to a sobering realization of the fact that Ghanaian voters and citizens were no longer going to allow ourselves to be literally taken to the cleaners. We also know that at least one Nigerian Ford Foundation Scholar who conducted an investigation into the Atuguba-presided Supreme Court panel that adjudicated the 2012 Presidential Election Petition had concluded that, indeed, the verdict reached by the Atuguba Panel had been flagrantly doctored to achieve precisely the objective that Justice William Atuguba clearly appeared to have wanted for his fellow "northerner kinsman."
We were informed, for example, that the votes of several of the jurists had been "corrected," after Atuguba assigns and representatives at the Supreme Court realized that the desired results had not been achieved. For his reward, the Supreme Court-appointed President John Dramani Mahama would appoint a relative of Justice Atuguba as his Executive-Secretary. Today, the last time that I checked, Prof. Raymond Atuguba had been named Dean of the Faculty of Law at the nation's flagship academy, namely, the University of Ghana. Only a pathologically naive close observer of the Ghanaian political scene would arrive at the inescapably grotesque conclusion that the appointment of Prof. Raymond Atuguba as Executive-Secretary to then-President Mahama was purely accidental or a sheer coincidence, coming right on the heels of the scandalous Supreme Court decision to call Election 2012 in favor of the candidate who, by Mr. Asiedu-Nketia's own public testimony, indisputably lost the 2012 Presidential Election.
This may also clearly explain the fierce battle put up by the leaders of the National Democratic Congress to have Mrs. Charlotte Osei, the Mahama-appointed scofflaw, retained at the Electoral Commission at all costs.
*Visit my blog at: kwameokoampaahoofe.wordpress.com Ghanaffairs
By Kwame Okoampa-Ahoofe, Jr., PhD
English Department, SUNY-Nassau
Garden City, New York
October 12, 2019
E-mail: [email protected]