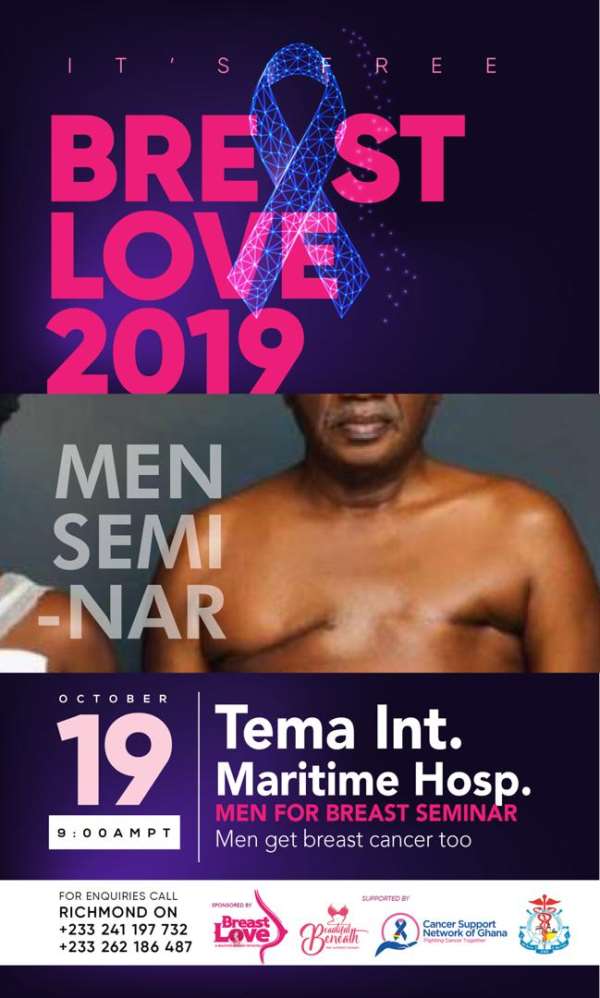 As part of measures of creating awareness on breast cancer, the Chief Executive Officer (C.E.O) of Beautiful Beneath, Juliet Gyamfi has disclosed that a seminar will be held on October 19 to draw the attention of men on early detection and prevention of the disease.
According to her, Breast Cancer is not a disease that affects women alone adding that men stand the risk of having the disease.
In an exclusive interview with Modern Ghana, the C.E.O said "Men should not think they are safe and cannot get breast cancer. Men get it too".
She added that the seminar will offer an opportunity for men to also support their women in the fight against breast cancer.
Mrs Gyamfi also revealed that the recently held 'Breast Love 2019' held in Kumasi and Sunyani brought together over 1200 people.
She mentioned that in Sunyani, two men and a woman were diagnosed with Stage 4 breast cancer
"Sunyani was amazing. We screened over 500 people for both breast and cervical cancers. We recorded 22 cases with two men and a woman having stage 4 cancers," Mrs Gyamfi emphasised.
She stressed that the turn-out in Kumasi was very impressive as many people trooped to Bantama to have their breast and cervix checked.
Madam Gyamfi further assured participants of the upcoming seminar of free screening among others.
The Seminar is scheduled to take place at the Tema International Maritime Hospital with support for Cancer Support Network of Ghana (CSNG).
She also called on Philanthropists and organizations to support the event.
A Pink Girls Concert which was slated for October 25 at the National Theatre has been rescheduled.
Details will be made available soon.