Ending Hunger And Poverty In Ghana Is Our Priority - Hunger Project Ghana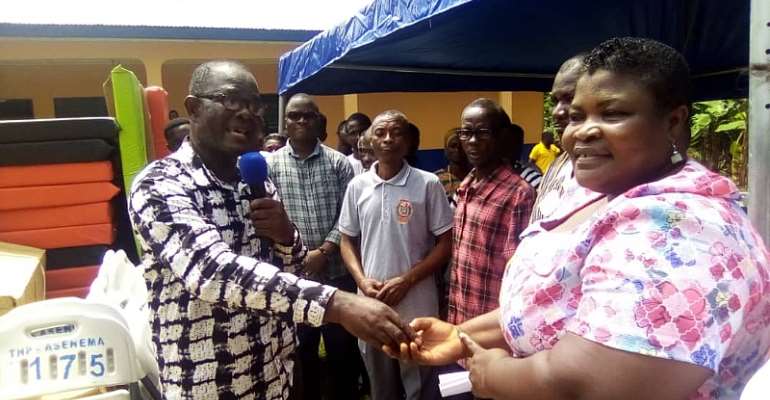 The Country Director of The Hunger Project Ghana, Mr. Samuel Afrane has emphasized that his outfit is working assiduously to empower community partners to end hunger and poverty in the country.
According to him, they are working with partners to successfully access the basic services needed to achieve the Millennium Development Goals to ensure people enjoy the lives of self-reliance.
This he insists has been initiated through its integrated approach to rural development, as well as the Epicenter Strategy.
He made this assertion when the Hunger Project joined the residents in and around Asenema in the Okere District Assembly on Wednesday to celebrate 'World Food Day' to raise awareness of hunger and malnutrition whiles advocating for actions to be taken.
According to the Country Director Mr. Samuel Afrane, a healthy diet is one that "meets the nutritional needs of individuals by providing sufficient, safe, nutritious and diverse foods to lead an active life and reduce the risk of disease." It includes, among others, fruits, vegetables, legumes, nuts, seeds and whole grains, and foods that are low in fats, sugar, and salt.
He said, Nutritious foods that constitute a healthy diet are not available or affordable for many people nor do all nutritious diets look the same around the world.
The Hunger Project Ghana also inaugurated the Asenema Epicenter social enterprise to aid them to maintain their facilities. The center now has 200 chairs, 50 mattresses, 6 canopies, and one tricycle.
The residents expressed their profound appreciation for the hunger project for the kind gesture extended to them.
Some of the residents who thronged to witness the occasion praised the Country Director Mr. Samuel Afrane for the good initiative.
2019 World Food Day;
This year, World Food Day turns an eye to the ultimate goal: Healthy Diets for a #ZeroHunger World. It calls for action across sectors to make healthy and sustainable diets affordable and accessible to everyone.