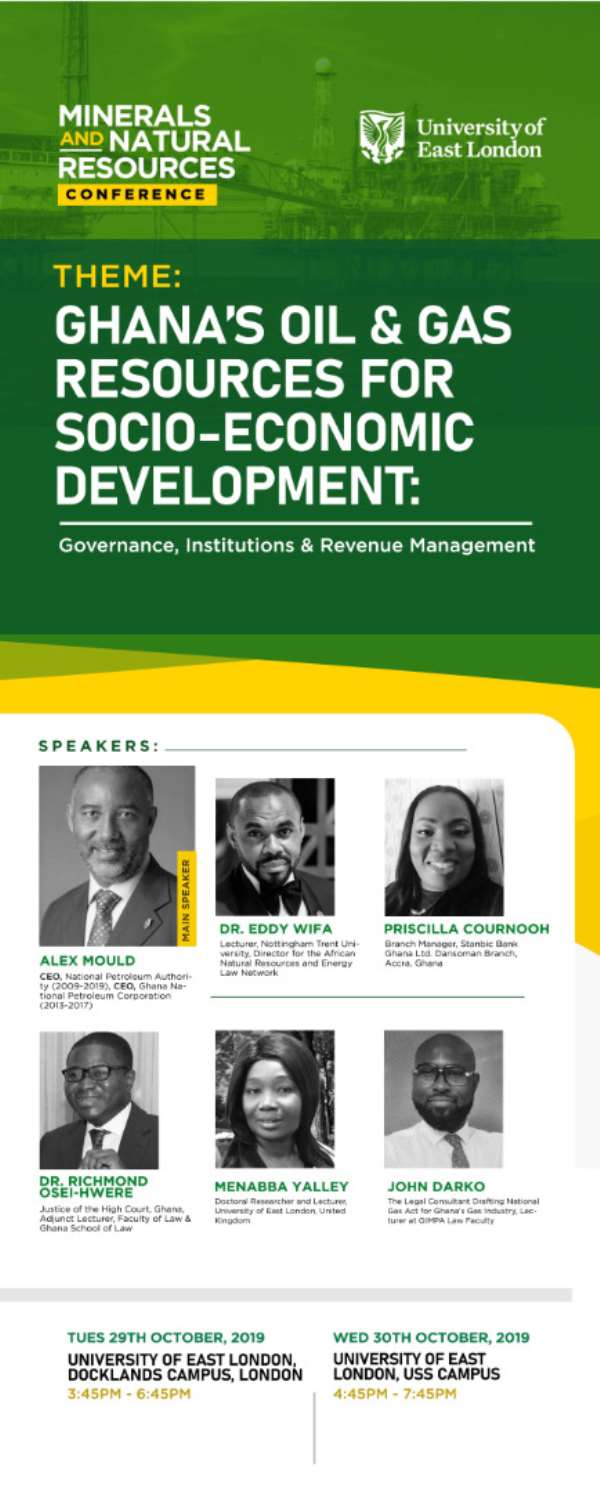 In 2010, Ghana joined the ranks of oil-producing countries in Africa with the current output of 120,000 barrels per day. This has greatly elevated hopes among Ghanaians but also sparked fears of a 'Nigerian scenario' in which the oil found appears to have become a problem rather than a solution.
Given the trajectory of some oil and gas producing countries' experience with the 'resource curse' phenomenon, one wonders whether Ghana as a developing country will be able to escape a similar fate with its new found oil wealth.
To deliberate and shed light on this, some researchers at the University of East London are organising a two day conference to debate and explore how Ghana can avoid the resource curse phenomenon through its Petroleum Revenue Management Regime.
This two-day conference is to provide a platform for experts, stakeholders, researchers, private sector organisations, NGOs and the public to discuss and explore avenues on the efficient management and exploitation of Ghana's oil and gas resources as a key contributor to the country's socio- economic development.
Check guest speakers, venue and date below:
ALEX MOULD - Former CEO, @ Ghana National Petroleum Corporation
NANA TETRETE OKUAMOAH SEKYM II - Paramount Chief of Wassa Amenfi Traditional Area, Western Region, Ghana.
JOHN DARKO - Senior Legal Consultant Supervising the Drafting of Ghana National Gas Act for Ghana's Gas Industry. Partner at a Darko, Keli- Delataa & Co. Lecturer at GIMPA, Law Faculty
JUSTICE DR. RICHMOND OSEI-HWERE - Justice of Ghana High Court, with expertise in Oil & Gas Law. Adjunct lecturer – Faculty of Law, Kwame Nkrumah University of Science and Technology (KNUST). Adjunct lecturer - Ghana School of Law (Kumasi campus).
DR. RAINER AKUMPERIGYA - Law Lecturer, Ghana Institute of Management and Public Administration (GIMPA) School of Law, Ghana. Legal Practitioner and Senior Partner at Partners & Associates, Ghana.
DR. EDDY WIFA - Lecturer Nottingham Law School. Director for the African Natural Resources and Energy Law Network
MENA ABAFFOE YALLEY - Doctoral Researcher and Lecturer, University of East London, UK.
REBECCA AMPONSAH - Legal Practitioner and Doctoral Researcher, University of Aberdeen.
OLUBUNMI ONAFUWA - Doctoral Researcher and Lecturer, University of East London, United Kingdom.
PRISCILLA ARABA COURNOOH - Branch Manager, Stanbic Bank Ghana Ltd, Dansoman Branch, Accra, Ghana
Programme:
1st Day - Plenary Session.
Date: "Tuesday, 29th October, 2019"
Time: "15:45pm - 18:45pm."
Venue: University of East London, "DockLands campus,"
University Way,
London
E16 2RD.