The National Poultry Farmers Association has celebrated World Eggs Day with a call on pregnant women to consume more eggs in order for the brains of their babies to develop well.
At the National celebration in Kumasi last Friday, the National Chairman of the Poultry Farmers Association, Mr. Victor Oppong Adjei said one of the nutrients found in eggs called 'cholen' is really helpful to brain development especially in babies.
Calling on all pregnant women to eat more eggs, Mr. Oppong Adjei noted that there is no single diet in Ghana which contains more nutrients than egg.
The celebration was themed "Eat an egg today and every day".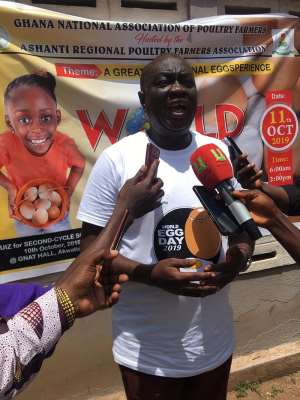 This is the first time the Association chose the Ashanti regional capital for the celebration, and it was mammoth.
Greater Accra, Western, Brong Ahafo were the venues of their previous celebrations.
The Association began the marking of the celebration with an impressive launch on Thursday where two-second cycle institutions were quizzed on their knowledge on poultry.
Various speakers including a nutritionist took turns to inform patrons of the launch about the health benefits and the best ways to enjoy one's egg.
Their presence was felt all over Kumasi as members of the Association were joined by their value chain business partners, some journalists, and the general public to embark on a float while sharing thousands of boiled eggs to people along the road.
Mr. Oppong Adjei noted that decentralizing their celebrations was a way of demystifying the misconceptions blown over the consumption of egg.
The Ashanti regional chairman who was pivotal in the celebration could not hide his joy on the success of the celebration in his region.
He said the benefits of eating eggs was enormous and could not be underestimated.
"Eggs prevents cataract, reduces the risk of having a stroke, helps in reducing weight and reduces up to 44 percent chances of having breast cancer, this is what we want Ghanaians especially and people all over the world to know". He stressed.
He was hopeful his colleagues in the Poultry Farmers Association of Ghana are well able to produce quality eggs from healthy chicken fed with nutritious and quality feeds.