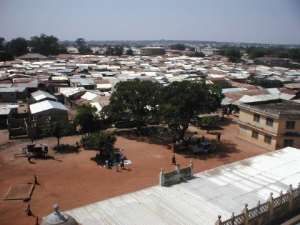 Fighting broke out at Nayiri in the Upper West Region yesterday when angry youths who had occupied the old Wa-Na's palace defied a quit order and later engaged a detachment from the Regional Police Command in a shoot-out.
One person was injured and 42 of the rioters were arrested and put before the Wa Circuit Court. they were remanded to re-appear next Thursday.
The injured person was identified as Zulaiha Abdallah, wife of a policeman. She is receiving treatment for bullet wounds at the Wa Government Hospital.
The Upper West Regional Police Commander, ACP George An-Kobil, said the youth had earlier occupied the old Wa Na's Palace, claiming they were there to rehabilitate it.
He said upon receiving the information, the police tried to convince the group to leave the palace since it was already on the list of facilities to be renovated under the World Heritage Sites Project.
He said when they refused to comply, their leaders were arrested.
ACP An-Kobil said in reaction, another crowd regrouped and made the police target of a fierce stone pelting session.
He said the police responded with tear-gas, but this rather enraged the mob who then acquired weapons and engaged the peace officers in a shoot-out, leading to the wounds sustained by Zulaiha Abdallah.
He said the situation was currently under control but advised all parties in the Wa chieftaincy dispute to respect the Supreme Court ruling that Naa Yakubu Soale Seidu was the substantive chief of the Wala Traditional Area.
According to the Police Commander, some unscrupulous persons were going round wearing "T" shirts with the effigies of some impostors claiming to be the Wa Naa.
He, therefore, issued a statement to the effect that on February 20, 2006, Alhaji Seidu Issah, a rival claimant to the Wa Skin and nine others were tried, found guilty, convicted and sentenced to be of good behaviour for a period of 18 months or in default serve a prison term of six months with hard labour.
He warned that wearing of "T" shirts of Alhaji Issah constituted a threat to the peace and the offenders would be arrested and prosecuted.
The commander advised all parties to avoid acts which were likely to jeopardise the security of the Wa municipality and which could lead to the loss of lives and property.
He asked law abiding members of the public to have nothing to fear since law and order would be enforced in the interest of the majority of people in the municipality.