SIM Registration Will Help Us Catch Cyber Criminals — Ursula Owusu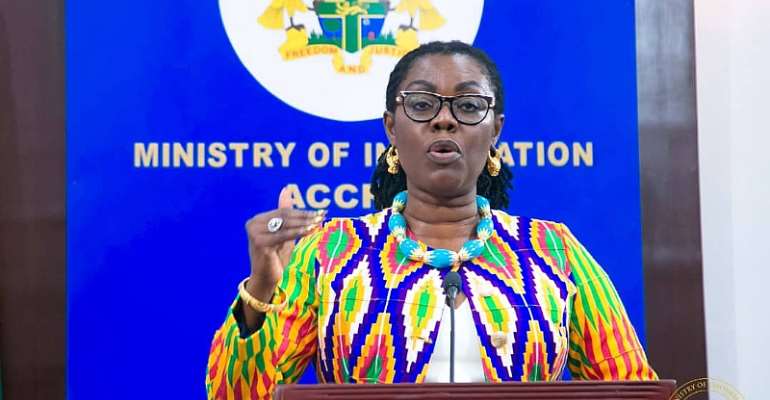 As part of measures to clamp down on criminal activities by some mobile phone users, the Minister for Communication, Ursula Owusu is urging the populace to ensure their sim card(s) are properly registered for easy identification before June 2020.
According to her, this directive which takes effect from January 1, 2020, will restore the confidence and trust in Ghana's ICT ecosystem.
She added that it will help the securities foil crimes and provide them with the right and timely data to track and arrest cybercriminals in the country.
Addressing the media at a Meet-The-Press in Accra, Hon. Ursula Owusu said, "The NCA has been directed to establish an efficient solution to link all existing databases and ensure strict compliance with the law on the acquisition and registration of Sim cards in Ghana."
She continued, "The re-registration process will help the law enforcement agencies to identify the SIM card owners, track criminals who use phones for illegal activities, curb incidents such as phone theft, hate text messages, mobile fraud activities, inciting violence, and to combat crime such as SIM Box fraud."
Hon. Ursula mentioned that SIM registration will enable subscribers to be properly identified for the use of value-added services such as mobile banking, mobile money, and electronic payment services.
ECOWAS Free Roaming Initiative
She noted that the plan was to reduce rates within the Sub-region, to promote Cross-Border investments. "It was proposed by ECOWAS Ministers of Telecommunications/ICT during their meeting in Niger in 2016 and in 2017. They later adopted Regulation C/REG.21/12/17 on Roaming on Public Mobile Communications Networks in the sub-region".
Hon. Ursula also noted that the implementation of the ECOWAS roaming initiative will also facilitate Ghana's hosting of the Secretariat of the African Continental Free Trade Area (AfCFTA).
Central Equipment Identity Registry
The sector minister stressed that Ghana has about 34 million mobile phone subscribers with a mobile penetration rate exceeding 119%.
"It is a huge market for mobile devices; however some subscribers use substandard and smuggled devices, resulting in cyber security threats and revenue loss for importers," she stated.
She opined that registered businesses have to deal with unfair competition from these devices, which are cheaper and threaten the survival of legitimate businesses.
FM Audit and Radio Station Closures
The Minister re-echoed that the National Communications Authority (NCA) imposed pecuniary sanctions on radio stations found to have been operating with expired authorisations.
"A total of 144 FM stations were identified for various infractions with their Authorisations from the 2017 FM Audit. Fifty-Seven (57) out of the 144 were closed down in 2018 and 2019 following the decisions of the Electronic Communications Tribunal (ECT)," she emphasised.
In accordance with the decisions of the ECT, she added that 30 out of the 57 stations have submitted fresh applications for FM Authorisations, of which 15 have been processed.
The Minister added that applications for the remaining 15 FM stations are still being processed of which its outcomes will be communicated soon.
Mahama And MFWA Falsehood
She lambasted Former President John Mahama and the Media Foundation for West Africa (MFWA) putting out a factually incorrect and a blatant untruth.
"No opposition radio stations have been targeted for closure using the law. No such intention actuated this exercise and I am not sure we can claim that all the 144 stations in breach of the Electronic Communications Act were NDC or opposition radio stations," she pointed out.
Girls-In-ICT
Madam Ursula Owusu disclosed that as part of measures to bridge the gender gap existing in the Information and Communications Technology (ICT) sector, Member States of the International Telecommunication Union (ITU) adopted in 2012 to celebrate Girls-in-ICT.
She added that in May 2019, the Ministry celebrated the Girls in ICT in Western Region training 600 students drawn from 9 Districts in the region.
"We want to make it bigger and better, so we have instituted a biannual celebration and will be training 980 girls drawn from 14 Districts in the Central Region. The training of Trainers has just been completed and the training of the Girls starts today," she said.
The Background
Ghana enacted the Subscriber Identity Module (SIM) Registration Regulations, 2011 (L.I. 2006) primarily to reduce mobile phone related crimes such as prank calls, cyber-crime, mobile money fraud and its related issues and general security. Due to crucial nature of SIM registration and its security implications for the country, MNOs have been required to ensure SIMs are registered properly before activation on the mobile network to avoid inconsistencies and fake subscriber identity.
It is emerging that since there is no solution in place to integrate all the databases of Card Issuing Agencies for the seamless verification of IDs used for registration of SIMs to be effectively conducted.
The Ministry of Communications has noted other deficiencies of the existing SIM card registration regime in Ghana including the sale of pre-registered SIM cards, the use of pre-registered SIM cards and fraudulent registration of SIM cards.