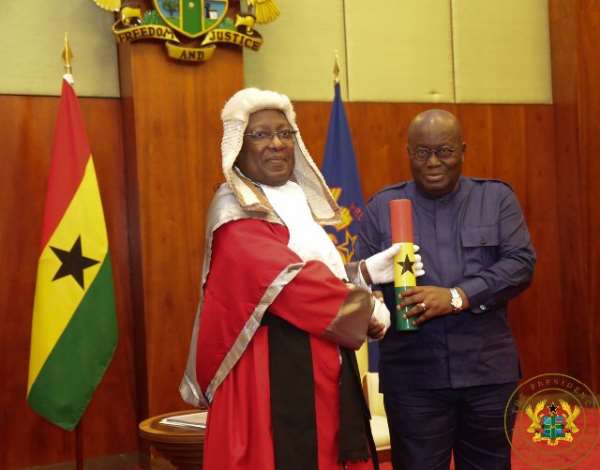 Justice Anthony Yeboah
Like all things Ghanaian, last week, when my brother-in-law, Mr. Frederick Kwadwo Henaku, phoned me from Accra to sadly report the passing of Justice Anthony Kwadwo Yeboah, Justice of the Appeals Court of Ghana, I scrambled to the Internet and to the all-purpose Google search engine to see whether I could garner a decent modicum of biographical information to help me put something decent on record in honor and the hallowed memory of this fine legal light and emulative and erudite judicial wit, both for the record and as a necessary cathartic exercise to negotiate over this seismic loss.
You see, the recently deceased Human Rights Spearhead and advocate was my senior schoolmate at PERSCO, that is, the nationally and globally renowned St. Peter's Secondary School, presently renamed St. Peter's Senior High School, located at Okwawu-Nkwatia, in the Eastern Region. The future venerable Justice of the Appeals Court actually attended the first five years of his regular secondary education, that is, forms one-through-five, in the Asante Regional Capital of Kumasi. Well, I drew absolutely blank in my attempt to locate the most relevant information on this formative period of his academic life on Google. But I also recalled being informed, largely via the grapevine, that Senior Yeboah, as he was affectionately called, had spent a brief moment of this period in a Roman Catholic Seminary High School in Kumasi but had to leave the unnamed institution for reasons that were never made quite clear to yours truly.
You see, so noble in deportment and genially affable was this diminutive senior of mine – Senior Yeboah stood at about 5-foot-two or three – that his very nobility promptly discouraged the inquisitive one from prying into his purely personal business or his private life, especially if one also believed that such intrusive investigation was likely to rack up or rake over something either not very flattering or, perhaps, even patently embarrassing. So, I never quite mustered the courage of the proverbial buttinsky. In the next couple of years, which was precisely how long the future Justice Yeboah spent in the Sixth-Form at PERSCO, I would get to know the man a little bit more through the future Professor Kenneth "Lord" Attafuah, a close friend, classmate and fierce academic rival of the deceased.
Both of these fine minds and patrician-looking senior students clearly looked poised to remarkably distinguish themselves in the near future. The period in reference was circa 1978 and 1979. I was in Form-Three when both Seniors Yeboah and Attafuah came to the Sixth-Form at St. Peter's; Senior Attafuah, whose "old man" father, Okoforobuo Nana Agyeman-Attafuah, then long deceased, had been Paramount Chief of the Akyem-Kotoku Traditional State, had come from the rurally located Jachie-Pramso Secondary School, as the latter was called those days. But, of course, there was absolutely nothing "villatic" or rustic about the young man. The one distinctive trait that both Masters Attafuah and Yeboah had in common was the fact that they wistfully seemed to have dearly missed not having been born at least five- or six-inches taller than they naturally were. consequently, whatever the twain felt that they woefully lacked in height was gracefully compensated for by their avid fondness for "Platform" or "Guarantee" shoes.
What also made both genial rivals unique in their respective ways was the fact that Senior Yeboah was known to have an uncanny facility for Latin, while Senior Attafuah deftly matched the latter with his equally remarkable flair for French. Both intellectual pair of twins – Senior Attafuah was actually a twin in real life, his Asante-Akyem mother having birthed three or four sets of twins in succession, if memory serves yours truly accurately. I was in Form-Four, going on to Form-Five, when the kindred pair successfully gained admission into the country's oldest and foremost tertiary academy, the University of Ghana, Legon. In those days, one had to be exceptionally brilliant, "dangerously" verging on genius, to enter the stiffly elitist Legon. In that sense, I guess, the Dear Reader could aptly say that I was a scandalous failure.
Soon thereafter, I completely lost track of the academic and professional progress of Senior Yeboah, whose father was also known to be a crackerjack economically successful Kumasi lawyer, which may very well explain why the future Justice Anthony Kwadwo Yeboah would be very close friends with my own friend and classmate Master John Kusi-Mensah, whose father was also known to be a quite successful Kumasi legal light and classmates with His Royal Majesty, The Asantehene, Otumfuo Opoku-Ware, II. On the other hand, I would erratically follow the academic and professional trajectory of "Lord" Attafuah – he had proudly "plagiarized" his aristocratic title from his then most favorite English poet, to wit, Alfred Lord Tennyson – from a safe and respectful distance.
Not very long ago, I chanced upon the review of a book authored by the recently deceased Justice Anthony Kwadwo Yeboah that had been written by Professor Attafuah, the polymathic lawyer, criminologist and high-end sociologist and the current Executive-Secretary of the National Identification Authority (NIA), which was quite witty and full of praises for Attafuah's old PERSCO classmate and academic rival. I am also quite certain that Professor Attafuah must be taking the sudden seismic passing of his dear friend very hard. Of course, I am also having quite a difficult time emerging from my funk of adamant denial. So long, Dear Great One!
*Visit my blog at: kwameokoampaahoofe.wordpress.com Ghanaffairs
By Kwame Okoampa-Ahoofe, Jr., PhD
English Department, SUNY-Nassau
Garden City, New York
October 13, 2019
E-mail: [email protected]