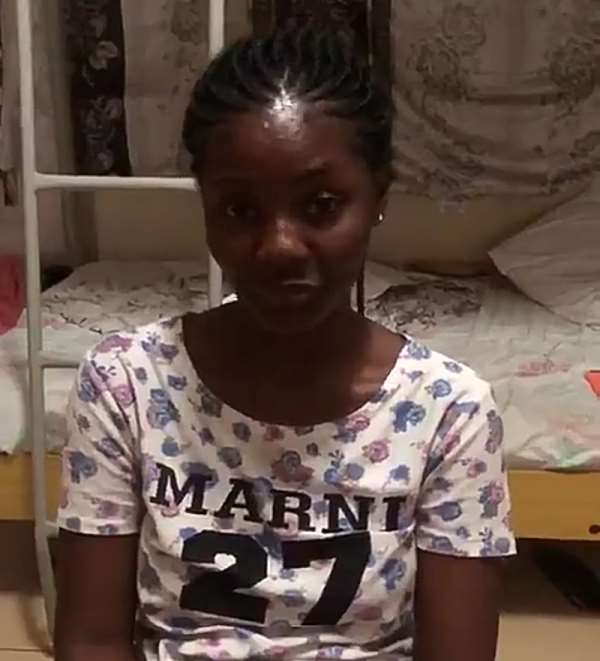 Man is said to be a higher mammal; and even as we are fashioned as all other animals, we are supposed to publicly exhibit tamed behaviour in accordance with societal expectations.
And when man the mammal is given some education, we expect that he/she exhibits the finest of our species. Dogs have sex in the open; man have sex in closed doors. Every human specie: high or low loves sex; but we think the poor common people make a lot of it, and they have plenty children to show for it. And when we send our young ones to the university, we expect them to yield to the rudiments that would tame their common instincts. They can't afford to be like the common people, engaging all day and night in sexual orgies.
They have the task to be reading the Whiteman books on our behalf; digging out the secrets to better lives for us. And so when the fresh young female student decides not to spend her first semester settling down to serious academic work for our collective good; but rather would use her first semester to pursue the satisfaction of her basal instincts, society has a cause to worry.
And in three months, she has been overgenerous in dishing out to the poor young man the juiciest in her ' honey pot. '. It looks like nothing is left in the pot for her; the reason she is so hurt by a bad three month sexual relationship. One would think a three month relationship would be about holding hands in the parks and stealing kisses. And this girl has shown this guy everything in three months. He is just a boy. You don't feed children like that.
You feed boys piecemeal. When you serve young children too much on a plate, they lose appetite for the food. Then they use the spoon to toy with the food particles in the plate. And this girl has caused this boy to momentarily lose appetite for the 'sweet nectar". He is disillusioned, and he thought there must be something more to this thing. It can't be that is all this girl has provided for him in three months
He wanted something new to confirm to himself if that is all there is in honey pots. Remember he is a boy. Boys get bored with the usuals. He has no experience; he doesn't know yet it is just all fleeting pleasure. But this girl won't take it; he wouldn't let her toy go; it is only three months she acquired it.
But she caused it; boys get bored playing all day with one toy; if you want to sustain their interest in it for long, you take it away from them intermittently; then you introduce them to it.
Their excitement is always anew every time you reintroduce them to their old toy; lost and found. You can't indulge boys. Today, they want abacus; you buy it. They play with it today and the next day they want something else.
The next day, ' mummy, buy us guitar '. The mother buys it. Within a few hours, they are bored playing with a toy guitar. Now, they want real guitar.
This is a typical boy. You can't blame him for getting over you in three months. A time would come he would learn to be content with a thing or two.
He would learn to watch tv to relax; all day; months and years; he might just take delight in sipping beer from a glass; resisting the devil to go out.
He has learnt to tame himself. And so it must be difficult being a boyfriend in our modern times. In three months, you are overfed with too much honey; it is giving you fever. You feel someone is making all efforts to regulate your breath.
It is suffocating. Look at how she is slapping a Father's son with a bathroom slipper. Like she gave birth to him; she owns him. And it is because she has been feeding him from her 'honey pot' for three months, she thinks she owns him.
Some people would reject society's call to the young to marry early. 'You are too young to marry'; 'marriage is a serious business'; ' People are going through hell in marriage'; 'Don't rush' .
These could be good advice to the modern young woman if she could only keep to herself. The modern young woman can't keep to herself for three months without sex.
She needs to be dishing out honey from her pot all the time. Her life depends on it. And we say these people shouldn't be rushing to marry early because marriage is challenging. And she would do anything to keep her boy ( toy) for her compulsive delight. But boys aren't on the same page with girls most often. They just want to be boys for now. You are only a boy once in a lifetime.
They want to live; they want to live their curiosity in tasting soups and sauces. They would retire from this fun one day, and they would have something to tell.
And boys are just being themselves; dating shouldn't be stressful. But modern girls won't let boys be . They seek too much attention. If girls would just learn to have sex for their own pleasures; and not necessarily to keep boys; there would be peace.
Girls could probably have sex for grades; a more realistic reason to have illicit sex; my view. Sex before marriage is illicit; whether for some love for a guy or for a grade. Same illicit sex. No man is in the mood for commitment in a three month relationship. Each has a right to self-preservation, and we must exercise it rightly.
And maybe university girls should equally task themselves in academic work so they are not tempted by the devil to seek too much attention from our young men whose primary aim in university is to make something of their lives in future.
Idleness is a great temptor; it yields you to your basal instincts. Girls too should spend time in the library at school. The devil does not normally visit the library.
You must read O. You need more than a certificate to survive here after school. There are no jobs out there; you might just have to tap in some wisdom you got along the way to survive the challenges in the land.
Girls can't live on sex whilst unmarried ; and if they want to, they should at least accept no guy owes them faithfulness before marriage. There is nothing like cheating in premarital relationships. If you are in an inappropriate premarital relationship, you are a cheat yourself; don't cry when you are cheated on.
A boy who is sent to the university should work to make his father proud. You should largely focus on your studies. The beautiful ones are not yet born. One day, you would have money in your pocket; you would become a fine man, and all other things would be added onto you.
Don't spend your time jumping from one girl to another in the university; girls of today aren't modest. They know too much.
At least, learn to manage the one who wants to take away your very breath with her excessive generosity.
We all need real experiences to grow; maybe to be better in future relationships.
Don't force yourself to measure up to her excessive expression if you don't feel like it. It is perfectly alright to take all the time to make that decision to give it all to a relationship.
On the last day of school, you would be spared of her, probably forever.
In future, you learn to choose better who to sleep with.
BY Paul Zowonu
Accra.
#talkingblues
13/10/19: 7:22
Contact:[email protected]