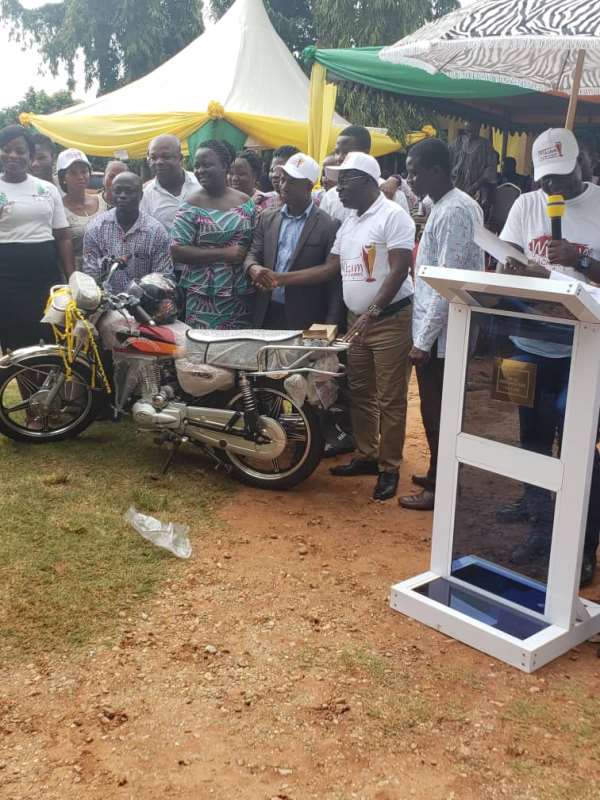 Techiman, the capital of the Bono East Region held its 2019 edition of the world teacher's day celebration under the theme, "Young teachers: The future of the profession" which took place at the forecourt of the Techiman Municipal Assembly on the 11th October,2019.
This policy of awarding and appreciating hardworking teachers was initiated last year 2018 by the deputy minister of regional re-organization and development, Hon Martin Agyei-Mensah Korsah to award best teachers every year dubbed "MIKAM awards".
The Municipal Director of Education, Mr. Isaac Nsiah Edward disclosed that, this year had four more awards added to the already existing category of awards which included E-learning best teacher, best private school teacher, non-teaching staff award and lastly municipal education directorate best worker.
He explained not only teachers must be awarded but the non teaching staffs too.
In a special address by the brain behind the celebration, Hon Martin Agyei-Mensah Korsah, cautioned the people of Techiman not to attribute the awards to NPP teachers benefiting.
He stated that the awards were fairly selected based on hard work and had nothing to do with their political party affiliation.
He further stated that, the win for the teachers/non-teachers is a win for every other individual present here or at home and so parents and the community must come together with a common interest of training kids the right way for the development of the nation.
The outstanding teachers were ranked 1st, 2nd and 3rd respectively. Mr. Gordon Nyarko, a mathematics teacher at the Techiman Senior High School (TESS) was crowned the overall winner for the best teacher awards 2019. The second best outstanding teacher went to Acheampong Benjamin, a teacher of Asue Methodist JHS in Techiman and the third and final outstanding teacher went to Mr. Benjamin Adu Fosu. Eleven other dedicated teachers were awarded.
In an interview the overall winner of the best teaching/non teaching staff awards 2019, Mr. Gordon Nyarko expressed his profound gratitude to the Hon martin Agyei- Mensah Korsah for his great policy to acknowledge teachers every year for their hardwork in Techiman.
He dedicated the award to all teachers and encouraged his fellow teachers to be hard working and committed in other to also be appreciated next year.