Gov't To Establish NABCO Academy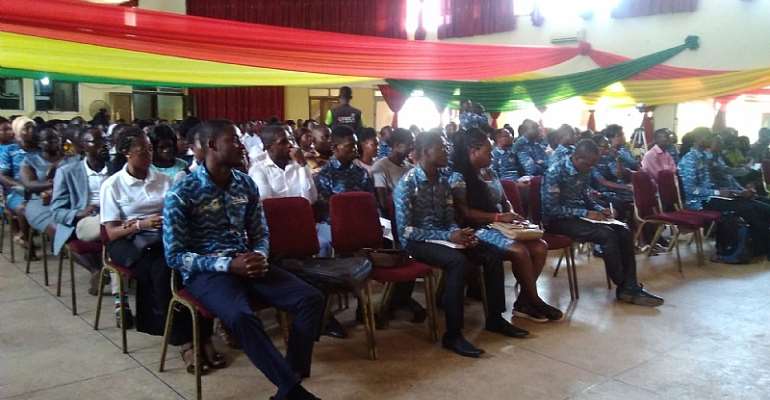 In line with the government's intention to equip "the Nation Builders Corps (NABCO)" beneficiaries with more knowledge and skills training, government has laid a foundation to Institute NABCO Academy to expand the programme.
Consequently, there is going to be online training, base on courses beneficiaries desire to further build their capacity.
The programme, being sponsored by the Indian government in collaboration with the Government of Ghana would be spearheaded by the Kofi Annan ICT Centre.
The Central Regional NABCO Coordinator, Mr. Solomon Ebo Appiah revealed this at the celebration of the one year anniversary of NABCO in Central Region under the theme "Investing in Youth, Securing Our Future Through Work Opportunities and Nation Building."
He reminded beneficiaries to as matter of urgency go to the portal and select any course of their choice for free of charge.
The NABCO programme is a government initiative to address the unemployment situation in the country under the modules such as Education, Agriculture, Technology, health, drive revenue mobilization and collection among others.
Mr. Ebo Appiah urges NABCO beneficiaries to take the opportunity to enrol in the NABCO Academy to build their competence and capacity that NABCO has come to stay.
"Most of the time we apply for jobs and they ask of two to five years experience but as a newly graduate student which experience should I have before I will be employed".
In view of this, he noted that NABCO demands no work experience nor registration fee and appealed to the beneficiaries to embrace the programme and to make it successful to address unemployment situation in the country.
The Cape Coast Metropolitan Director of Education, Mr. Philip Kwesi Inkoom in a speech read on his behalf, stated that 359 NABCO teachers were posted to the Metro education office for onward posting.
He added that out of the 359, 331 were posted to the public basic schools and 28 to the Senior High Schools.
According to the Director, NABCO has come as a great help and relief to the Metropolis in the wake of teacher shortage in some schools.
He added that the personnel have helped to promote the specific aims of GES.
Mr. Inkoom said his outfit can now boldly say that the teacher shortage issue has reduced due to the support of the NABCO programme.
The Governing Council Chairman of National Teaching Council and a Lecturer at University of Cape Coast(UCC), Prof Eric Nyarko Sampson who was the special guest expressed his joy at the Komenda Edina Eguafo Abrem (KEEA) Director of Elections of the opposition National Democratic Congress(NDC), (name withheld) enrolled onto the programme.
This, according to him, shows that unemployment does not wear party colours.
The Deputy Central Regional Minister, Mr Thomas Aygei Baffoe urged the NABCO beneficiaries to desist from sending issues of allowance to radio stations but rather consult the stakeholders within the programme to address them.