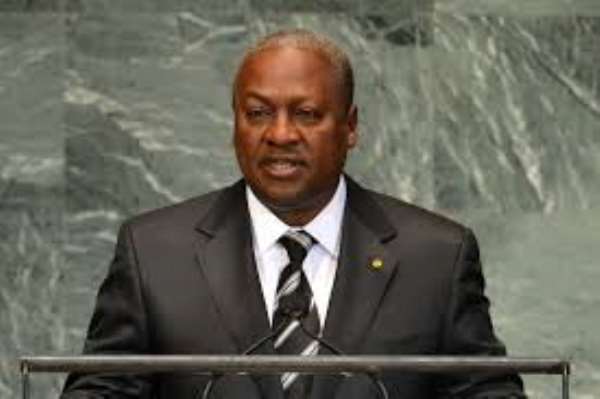 Former President and the Flagbearer of the opposition National Democratic Congress (NDC), John Dramani Mahama has made a clarion call on all political parties to make the safety and security of Journalists a priority in the discharge of their duties.
He made this call when the Ghana Journalists Association (GJA) on 10th October, 2019, paid a courtesy call on him in his office to officially invite him to their 70th anniversary celebrations next month.
"Journalists need to be protected to do their work because they are the eyes and ears of society and they report on what is going on so that people are abreast with developments within their communities," he emphasized.
Mahama continued, "We have new dangers that face journalists like assault of journalists and I believe it must be condemned in any shape or form. So molesting of journalists should be condemned totally and I stand with you. And as a member of the profession myself, I don't condone it at all and any time it occurs we will condemn it and not stand for it."
He expressed worry where some journalists have come out to express fear and death threats over some stories they have covered.
He made mention of the aftermath of Anas Aremeyaw's Number 12 documentary which came with incessant attacks from some persons in the ruling government which also resulted in the assassination of one of his collaborators, Ahmed Hussein - Suale.
"Recently our brother Manasseh had to flee the country for fear of his life. There's another journalist in Upper East who did a story and had to flee the region for a while because he was afraid he will be attacked.
"These are totally unacceptable and I believe that the association should continue not only to sensitize and create awareness but fight to ensure that things like these will never happen again. A Journalist must not suffer because he's trying to do his job."
Closure of some media houses
On the closure of some media houses by the National Communications Authority (NCA) in recent times due to some administrative breaches, he expressed that as a worrying phenomenon that could set a precedent for the future.
"There have been situations of some abuse of the media. We fought to open the media space so that our people can express themselves freely .There has occurred under this government, a situation where the law is deliberately used to shut down some stations."
"If you look at the pattern of the stations closed using the law, they are all pro-NDC stations which I think is a very bad precedence and I believe GJA cannot but condemn that in the highest terms," he intimated.
Elections
Mahama admonished the Electoral Commission (EC) to discharge their duties within the remits of the law so as to make ensure free and fair elections are conducted always.
This, he believe will ensure all parties involved in any election are satisfied after the results are declared.
"So there is the need for all stakeholders in elections to always keep a closer eye on the EC to do the right thing to uphold the integrity of the Commission and fairness in elections respectively.
"We will continue to advocate for a level playing field and so sometimes when you see us in an altercation with EC, it's just because we want to be sure that they do the right thing so that when elections are held all of us can believe that they've been transparent, free and fair," he posited.
Media professionalism
He added that the media community should continue to do professional training in the digital media era as technology is fast changing in the face of the profession.
He advised that journalists need "…to get conversant with the way technology is going and how they can make the best of it in respect of the profession that they are in."
On fake news, he said, "…we are in the era of alternative facts and you don't know which the facts are because to every story there are alternative facts which makes our profession challenging than it was in the good old days when we went to training schools and that's why I think that continuous training should take place."
Mahama added, "With our profession, anybody can be a media person or a journalist without having necessarily going to journalism school. So once you enter the profession, it's your duty to educate yourself because if you learn the profession even though you have the natural flair for that it makes you an even better journalist."
On his part, the President of the Ghana Journalists Association (GJA), Mr. Affail Monney reminded journalists that they have a role to play in ensuring that elections are conducted freely and fairly so as to make the outcome acceptable to all parties.
"So the media community has the responsibility to give fair, accurate, balanced reportage to all the political parties. We should not allow our partisan interests to dictate what we should do.
"The political parties also have a role to play to ensure a successful election next year. We expect their leadership to impress upon their followers to keep their hands off journalists because if journalists are attacked, our democracy is attacked and if our democracy is attacked then the soul of this nation is attacked.
"We implore on politicians and their leaders to ensure that they extend a cover of protection to all journalists in this country. In that way, Ghana will be the winner irrespective of who emerges victorious on 7th December, 2020," he concluded.