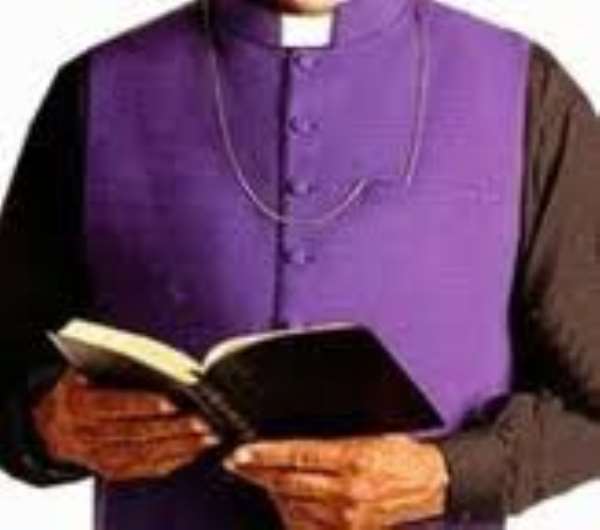 I don't watch these so-called prophets on television. But, I only do on some occasions to appreciate and put myself into the shoes of the suffering masses who attend such churches or better still just to observe.
Just watching Lion TV where I normally tune in to watch movies to relax while I wait for sleep. Guess what? Rev. Obofuor called this pretty lady and hear out. The beautiful lady recounted her harrowing story and I find it worth sharing and why I support Mr. Mbir's persistent call that the clergy must also look at the physical aspects of their flock.
She said, she started to smoke marijuana when she was in school through friends and have been doing so for the past 10 years. She has done tramadol, drinks heavily, smokes cigarettes and now a prostitute. Why, she has two kids and the man who got her pregnant didn't accept responsibility and has abandoned her. She only prostitutes to cater for her children. The irony of her woes is: she is the eldest of her siblings. Without a father and mother to help, see what life circumstances has turned into? A drug addict and a prostitute.
She has tried and erected some glass compartments into which she intends to sell, but getting money to stock it has been the challenge. She recounted that she doesn't get patronage and the little money she gets from the occasional clients must be sent home to feed her two kids and assist her junior siblings. All these were revealed because Rev. Obofuor was interrogating her and she made all these confessions. I was so touched by her story and very appalled that such persons abound in most churches and are receiving no help, why? Most of the church members were all in tears as the lady narrated her story.
Rev. Obofuor, leader and founder of Anointed Palace Chapel, called for his bag, gave the lady his personal number to call, gave her ¢2000.00. Latter added ¢2000.00 and instructed her to use the 1000 for TNT and sought out other needs. Use the remaining 3000 to go and buy the things she the lady intends to trade-in. If that works out he is willing to add an additional ¢5000 to compliment the initial amount or better still get her container to do something new for herself. Don't you think, the church and the clergy can emulate such examples and help alleviate the suffering of the masses who go to church? Why haven't the clergy and the church been doing so all this while?
In the interim, he ordered his junior pastors to let the church pay for the school fees of her two kids to lighten her burden. Rev. Obofuor asked her, "would you stop prostitution after this help"? She said she wanted to stop and that's the main reason why she came to church. All in the midst of wailing and flowing tears.
You see why some of us think that, the church must seek the physical needs of their flock? But, most often, it is about the building of plush church edifices, buying of cars and making sure the pastors live in opulence. "Men of God" can enjoy but must also seek the welfare of their members.
Rev. Obofuor could have prayed for her to stop the smocking, prostitution and alcoholism but, what would she depend on after all these? Relapse into prostitution or? And how does that help in the winning of souls for Christ and keeping such ones in church?
This is a clarion call to all those God has blessed. Be it pastors, politicians, chiefs, queen, celebrities and to whoever. As Patrick Nyarko my brother has always been saying " if life is about taking care of yourself and kids then, one better dead than alive". He continues that life is about positively impacting other peoples lives. It is by doing this, that we make life worth living. After all life is beautiful when others are happy because of you.
Make your life count. Let it affect someone. Change a life with what you've and let's all make the world a better place to live. You just bought a new phone costing you ¢1,500.00, 2000.00. When you could have purchased one for either ¢800.00 or 1000.00 and used the remaining amount to better a life.
Somebody needs just ¢100.00-500.00 to start something to change his whole life and that of his generation, but we spend on things we could have settled for a less expensive one. I'm not saying when you've made your money, don't live large, but we should be mindful that we're because someone is. When God blesses you, you should remember others. Those who have a lot of discretion income to spend owe it a duty to help others. You don't have to be paying all the big tithes and offering and your next door neighbour struggles to eat, clothes his kids etc? You cannot be feeding your foreign dogs when a family member in your village hasn't eaten, or cannot go to school or pay medical bills? We need to go back to our communal living and support one another. That's the only way worshipping God and churching would be very be relevant to those who are suffering.
D. C. KWAME KWAKYE
Cape Coast
0244976 550