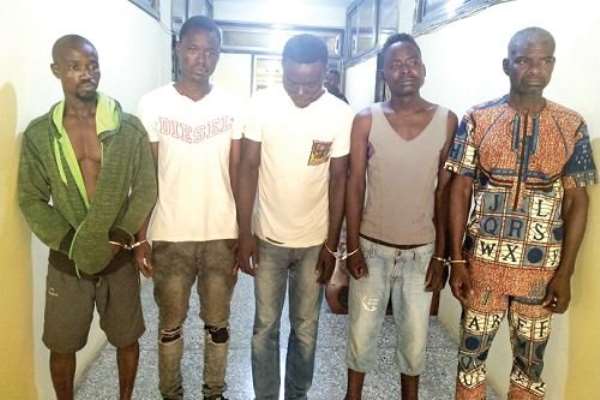 The suspects: From left to right, Edem Fiati, Evans Adzaho, Raphael Agbo, Felix Dupe and Godfred Alorvordz
Five suspected robbers have been nabbed by the police at Peki for allegedly robbing a fuel station along the Peki-Wudome road in the South Dayi District.
The suspects, Godfred Alorvordzi, 45, Felix Dupe, 31, Raphael Agbo, 33, Adzaho Evans, 29 and Edem Fiati, 28 are in police custody at the Volta Regional Police Headquarters. A sixth suspect, Pablo, according to the police, was on the run.
On October, 9, 2019, the suspects reportedly entered the premises of Kings Oil filling station with an Opel taxi cab belonging to Adzaho and allegedly took away GH¢2,211 in sales of the filling station and other valuables during their operation.
Briefing
The Volta Regional Police Commander, DCOP Edward Oduro Kwarteng, at a press briefing explained that Pablo, the suspect currently at large, was a former worker of Kings Oil filling station who conspired with, and alerted his accomplices that the backdoor of the facility was weak and could easily be broken into, to facilitate their nefarious act.
DCOP Kwarteng said the Peki District Police received a distress call at 6 a.m. from the National Police Control Room about the attack on the said facility.
A team of policemen was quickly dispatched to the scene and with the collaboration of the Peki- Wudome Neighbourhood Watch Committee apprehended three of the suspects, Alorvordzi, Dupe and Agbo.
Two other suspects, Adzaho and Fiati, were later arrested by the police to also assist in investigations.
DCOP Kwarteng also disclosed that two of the suspects, Fiati and Dupe, were standing trial in another robbery incident but were currently on bail.
The Police Commander issued a stern caution to other miscreants that the police were working assiduously to render the Volta Region unsafe for criminals, adding, "the region cannot be a safe haven for any group of criminals to operate freely."
He lauded the efforts of the Peki-Wudome Neighborhood Watch Committee and urged other communities to emulate them in order to assist the police fight crime.
—graphic.com.gh