Mills Failed to Identify With His People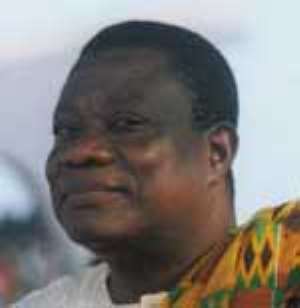 NDC Central Region Political Survey POLITICAL survey, conducted in the Central Region by Market Focus Consults to find out why the National Democratic Congress (NDC) and its flagbearer lost the last elections, has revealed that Prof. John Evans Atta Mills was rejected for not identifying with his folks in the region.
Prof. Mills, who was placed better than other aspiring presidential candidates of the NDC towards 2008 general elections according to a survey conducted earlier by a group christened, New Agenda-2008.org, suffered from what was noted as the ordinary disdain of Fantes in high positions on the basis of not identifying with their home-places and bringing about improvements to their communities as it is with other ethnic groups in the country.
The survey indicated that the former vice president did not only suffer from his lack of 'dynamism and high energy' but also from what was termed as 'unsavory pronouncements' or actions of the former President, Flt. Lt. Jerry John Rawlings.
According to the report, "Statements attributed to Mr. Rawlings, to the majority of respondents, reinforced their mistrust of Mills' candidacy and this did not help him."
It said further, "Basically every unsavory pronouncement or actions by Mr. Rawlings on the campaign trail was seen as a proof of Rawlings' 'covert' objective to come back to power and this weakened Mills considerably in his own region."
The survey catalogued a number of issues including conditions under which swing voters could be attracted to the NDC because of current voter perceptions of Mr. Kufuor and his government.
The report mentioned NDC presidential hopefuls, and then that of Hon. John Dramani Mahama, the NDC Member of Parliament (MP) for Bole-Bamboi as one who was ideal for the vice presidency.
"Rawlings stirs up passion among his supporters but John Mahama evokes respect as Vice Presidential material while Mr. Kufuor roused up people to believe he had the magic wand in 2000/2004. What passion or positive evocations does Atta Mills inspire in his home region?" the report asked rhetorically.
According to the survey, respondents in the Central Region stated in clear terms that if Mills had been elected president in 2000/2004, Mr. Rawlings would be indirectly ruling, adding, "Rawlings would have kicked Mills out of government."
Describing the former vice president as 'Asomdwehene' who delivers peaceful messages, the voters said, "We wanted an assurance that we would be helped out of our economic predicament .. but what we heard were messages on peace (asomdwee) , but we don't eat peace."
The survey further revealed, "Mills was described as learned, peaceful and humble; yet a lot of unpleasant things that were said by or attributed to Mr. Rawlings were transferred to Mills; but not Rawlings' strengths. In another dimension, Mills' messages on peace were not perceived as convincing enough even though many wanted a peaceful candidate."
Drawing conclusion on the executive summary of why Mills lost in the Central Region, the Survey had this to say, "Who is Mills anyway and what does he represent? In our view, it is Atta Mill's identity/competitive positioning not being well defined."
When this paper contacted Prof. Mills, a former tax law lecturer at the University of Ghana, Legon, he poured cold water on the contents of the report.
He expressed misgivings about the survey, saying that its contents did not reflect the situation on the ground even though it (the report) could be useful.
According to him, it was untenable that the survey tried to suggest that Fantes believed in the pull him down syndrome, implying that they did not bring development to the region He rebutted assertions that he would have been kicked out if he had won the 2000/2004 elections based on the perceived statements attributed to the founder of the NDC.
Prof. Mills, who observed that the survey was somehow useful for the progress of the party, contended that it was unreasonable that he was perceived as not associating himself with his constituents.
"Anybody who knows me very well, would know that I have always identified myself with my own people.
It is ridiculous to say that I have not made convincing messages. Yes, I laid emphasis on peace in 2000 and I know why I consistently speak on peace. In 2004, even though I spoke on peace, I seriously spoke on education, lack of unemployment, and others.
The tapes are there for the people to play," he said. On whether he would be kicked out by the founder of the NDC if he had won the elections, Prof. Mills had this to say, "Mills would not tolerate corruption. Mills would run a government with sole pre-occupation of helping Ghanaians to improve upon their economy, general welfare, improve upon the educational standards of the people and Mills would not condone any wrong doings. Mills would listen to the wishes of the ordinary people. Mills would not be arrogant but humble."
Mr. Emmanuel Victor Smith, Special Aide of Mr. Rawlings, however rubbished the notion that his boss would have kicked Prof. Mills out of office if the latter had won the 2000 elections.
"Let the people talk about the problems in the Central Region. I am sure that if Rawlings stands for elections today, he would win in spite of the negative reports made about him," he declared.
Stay tuned for more.