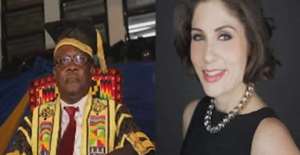 The University of Ghana (UG) has described comments by the CEO of Africa Integras in relation to the cancellation of a project with the university as misrepresentations and falsehoods.
Andrea Pizziconi suggested in a Twitter post that Vice-Chancellor of the university, Prof. Ebenezer Oduro-Owusu treated her in a misogynistic manner during negotiations.
However, the businesswoman faced media backlash for capitalising on calls on female students and past students to speak up against sexual harassment in the university to push her business agenda.
Prof. Oduro-Owusu has denied the allegations.
The University of Ghana said it needed to clarify the distortion of facts as to why the contract with Pizziconi's Africa Integras was cancelled.
UG said even before Prof. Oduro-Owusu took over as VC on August 1, 2016, a notice of default was issued to the University by Africa Integras for failure to obtain a letter of credit for the said project.
After explaining the processes that led to the cancellation of the project, the University of Ghana said the matter itself was still pending in court; awaiting determination.
The statement said Pizziconi's allegations were "opportunistic and ill-informed."
UG asked students and past students to speak up against sexual harassment on the back of a BBC documentary which cited two lecturers propositioning undercover reporters posing as students.
Read the full statement below:
---Myjoyonline