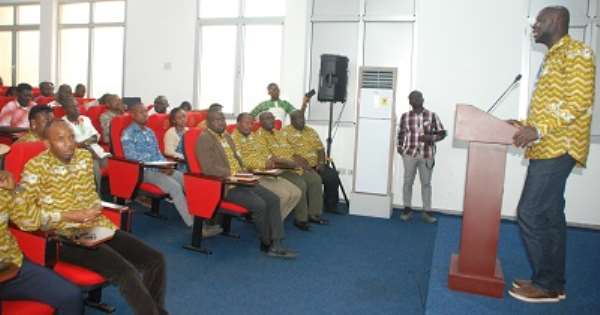 Alhaji Mohammed Baba Darison
The Greater Accra Coordinator for Nations Builders Corps (NABCO), Alhaji Mohammed Baba Darison has stated that all outstanding arrears owed trainees in the region have been paid.
He noted that they have been able to clear all the arrears that were owed the trainees previously and there are no issues pertaining to salary arrears of trainees.
He was speaking at the meet the press series of the Ministry of Information in Accra to mark the one year anniversary of NABCO and outline program activities for the anniversary.
"Our outfit has done well to clear all the previous arrears we owed all the NABCO workers in Greater Accra and the workers have shown commitment despite the time we owed them."
Alhaji Darison added that, some of the trainees caused the salary delays since they always fail to provide detailed information thus making it difficult for them to be validated to receive salaries.
He, therefore, admonished the trainees to use the appropriate channel to see to it that they are properly validated to avoid delay in the payment of their salaries.
Alhaji Darison also outlined some of the activities for the anniversary as he stated that, the President is committed to making sure the program succeeds for more youth to be employed onto the program.
Background
President Akufo-Addo says the government is gradually addressing the issue of unemployment through initiatives such as the Nation Builders Corps (NABCO).
NABCO's central focus is to create employment avenues and opportunities for young graduates from accredited tertiary institutions and enhance the dignity and self-esteem of the country's graduates, as well as present them with added benefits of efficiency and effectiveness in the delivery of some essential public services.
The President of the Republic, Nana Addo Dankwa Akufo-Addo, on Tuesday, 1st May 2018, launched the Nation Builders Corps (NABCO), which will employ, in this year alone, 100,000 young men and women to assist in the public sector service delivery needs of Ghana.
According to President Akufo-Addo, "NABCO will be the vehicle to deliver one hundred thousand (100,000) jobs in seven (7) prioritized areas, defined as the following modules: Educate Ghana; Heal Ghana; Feed Ghana; Revenue Ghana; Digitise Ghana; Enterprise Ghana; and Civic Ghana."
By : Samuel Opoku / Kingdom 107.7 FM / Kingdomfmonline.com / Ghana / 2019