East Gonja: NABCO Beneficiaries Donate Fans To Salaga Hospital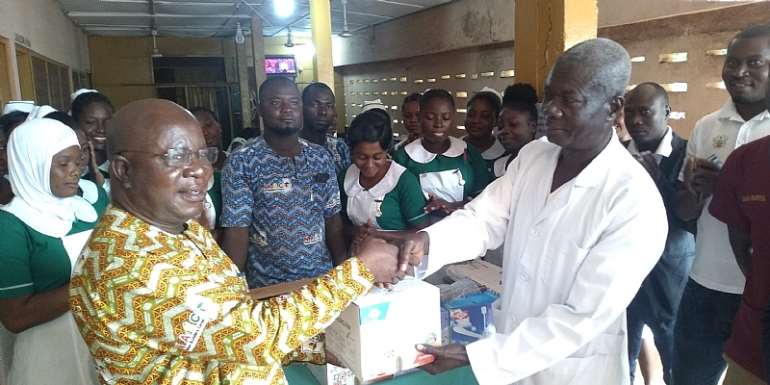 Beneficiaries of the Nation Builders Corps (NABCO) in the East Gonja Municipality have donated ceiling fans to the Salaga Government Hospital.
The donation comes at the back of their one-year anniversary celebration.
Presenting the fans to management of the hospital Friday, October 11, the Municipal NABCO Coordinator Lucas Alhassan Abilla said the gesture forms part of their social responsibility to the community.
He indicated, the beneficiaries who hitherto were languishing in poverty due to unemployment, decided to express their happiness in a form that will benefit the society.
"They said they want to show gratitude to the President for giving them their daily bread which is better than sitting at home doing nothing"
He added that the gesture though not much, but will help cool the place for patients.
"We know it is small, but like the Akans will say ' ketiwa bia nsua' take it and let it benefit the sick," he said
The Matron of the hospital Atubiga Daniel applauded the beneficiaries for remembering the hospital even at a stage they earn little.
He is optimistic the gesture borne out of love is an indication the beneficiaries will remember society one day.
"Today you earn less but have done this big thing, tomorrow if you earn more I know you will do better things," he said
On his part, the Salaga South Constituency Secretary of the ruling NPP Abdulai Habib Abiola assured the beneficiaries of government's commitment of rolling them unto mainstream employment.
He said NABCO alone should be a guarantee to retain the NPP in power.
282 unemployed graduates have been engaged in the East Gonja as NABCO.