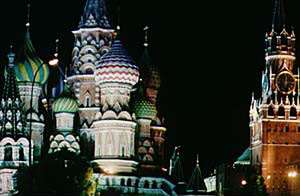 Moscow, March 2 -- An unofficial source has allegedly said that the Ghana Embassy here spent amount of $5,000 (equiv. 45.7 million cedis) on the Government delegation that visited Moscow. The sources explained that the amount represented cost of laundry services for the delegation headed by the Defense Minister, Dr Kwame Addo-Kufuor.
In August last year, Ghana's Defense Minister, Hon Dr Addo-Kufuor, headed a four-man delegation to the sixth International Aviation and Space Show, MAKS-2005, held in Moscow. During that visit, the delegation used the opportunity to hold high level business meetings with the Rosoboronexport, the State Agency responsible for exportation of military hardware and equipment, focusing mainly on developing military and technical cooperation between the two countries, signed contracts and winded the trip up with a cultural programme.
According to the source, an additional $400 (equiv. 3.6 million cedis) was spent on tickets to the Moscow's Bolshoy Theatre which the delegation never attended. The official schedule followed by the local staff confirmed that the delegation never went to any Moscow's Bolshoy Theatre before their final departure. "The delegation refused an offer to attend an evening entertainment programme," said the source.
In another unrelated development but emerging from the same Embassy, the direct telephone lines to the Economic, Cultural and Information section and that of Accounts Department were disconnected on the flagrant instructions of Head of Chancery, Dr Joseph Coffie-Agoe, citing excessive private external calls by the officers resulting in the payment of heavy bills which was taking its toll on the mission's budget.
Sources told this reporter that the First Secretary in Charge of Finance, Mr Eric O. Larnyor, made series of external calls to his relatives both at home and abroad averaging $1,000 (equiv. 9.1 million cedis) per month alone. It was unclear whether the same accusation applied to the Economic, Cultural and Information section headed by Mrs Emma Addae Mensah.
The Administrative Head, Dr Coffie-Agoe, preferring to speak the coded language of everyday diplomacy told this reporter that the emphasis of any activity now should be focused on "economic spheres" that could be of great benefit to the economy of the Republic of Ghana.
"Unfortunately, the Economic section is not effectively functioning and its performance has been poor, far beyond expectation. Look at what other Embassies are doing for their countries, - they have been seeking more active economic engagement with Russia," Head of Chancery, Dr Coffie-Agoe, once said in general remarks with this reporter.
One Russian Secretary involved in the day-to-day administrative work told this reporter that Mrs Addae Mensah, for instance, has quietly endorsed the administrative decision imposed against them, constantly kept avoiding to put pressure for re-installation or, better still, to make an official and genuine case for themselves at the Ministry of Foreign Affairs if really they were right in their actions. Another local staff privately believes that pushing the problem without being hostile would be unproductive.
"But, one gets the impression that officers pretend to be working as a team, in a healthy atmosphere, whereas they are not. And we absolutely have no reasons to show concern but something needs to be done about all these," said the local staff. "The ability to deliver the expected appreciable results l! argely depends on a well-coordinated team of staff and not individualism."
An official speaking on condition of anonymity told this reporter that the Embassy plans to negotiate for re-installation which will cost some extra $2,000 but declined to mention who will pay the bills for the re-installation services that will be undertaken by Moscow's Telecommunications Company.
But observers said the Economic, Cultural and Information section became ineffective at a crucially poignant period when Hon. President John Agyekum Kufuor has repeatedly tasked missions abroad to identify economic and business potentials considered necessarily beneficial for the country's development.
Observers also said a two man auditing team seemed not to have chronicled any financial improprieties, such huge phone bills or questioned any false claims made at the mission.
Now is the time for the newly arrived Ambassador Extraordinary and Plenipotentiary, Air-Vice Marshall (Rtd) Edward Apau! Mantey, to pay an analytical attention to some of the existing organizational and administrative problems at the mission which he has fully taken over this March after Hon. President John Agyekum Kufuor fired Major-General (Rtd) Francis Yahaya Mahama from the prestigious diplomatic post.