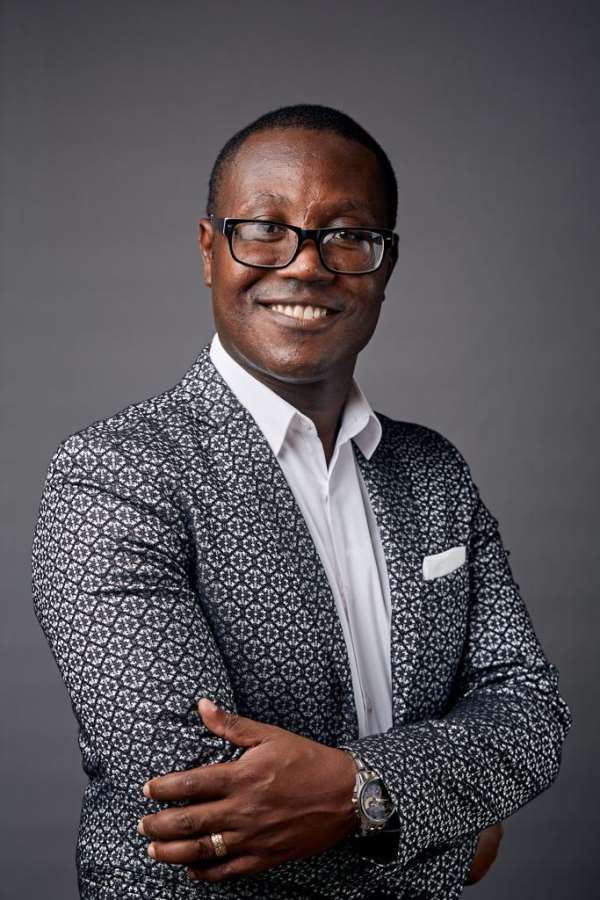 The CEO of Infoview Data Solutions Jeff Abass Bamba
The annual edu-Revolution Africa Conference being organized by Infoview Data Solutions has taken place in Takoradi in the Western Region.
The conference touched on leadership, education and application of technology in advancing the Ghanaian society.
Over hundred participants largely from private sector schools, officials from the education sector and relevant stakeholders graced the occasion.
The eduRevolution Africa Conference is the bedrock and foundation for idea sharing in education. The conference blends education, leadership, and technology for successful educational outcomes.
Speaking at the conference, on Tuesday 8th October 2019, the Western Regional Minister, Kwabena Okyere Darko-Mensah expressed gratitude to the organisers for moving the conference from Accra to Takoradi for the first time.
"Today is a great day for us to gather here and share ideas around quality education outcomes in the Western Region", he said.
He added, "I am particularly excited to be part of the first eduRevolution Africa Conference outside of Accra. Western Region was chosen as the beacon of progress and opportunity, that is why Infoview Data Solutions is here with us.'
The minister quoted former South African President Nelson Mandela indicating that "Education is the most powerful weapon which you can use to change the world."
But, he disagreed with the quotation, noting that "I think he is wrong! I believe that education is the only tool at our disposal to transform our great region in this 4th industrial revolution".
He said he was happy to be part of the gathering of school owners, directors and administrators, in discussing the impact of technology in promoting positive educational outcomes for all stakeholders.
The Minister shared his perspective on the government's effort to improve quality and access to education in the country.
He shared his vision for the Western Region, stressing how the contribution of educators will impact the future of the region.
The Minister explained that the First Industrial Revolution which took place between 1760 and 1840 in Western Europe and Northern America, was only possible through the use of mechanical engineering.
"Before the first industrial revolution, all work was performed through manual labor. This period of history transformed societies from the manual labor of production to machines. Education, specifically - science education, was the bedrock that made this possible", he acknowledged.
According to Kwabena Okyere Darko-Mensah, this was followed by the Second Industrial Revolution, also known as the Technological Revolution. "This was a period of rapid industrialization from the late 19th century to the early 20th century. Once again, education; specifically, the invention of electricity was the foundation that gave birth to the rapid development of new economies".
This period, he observed created large economies and societies that we currently live in.
The Minister revealed that nearly a century after the 2nd industrial revolution, specifically, the second half of the 20th century, a third industrial revolution appeared with the emergence of a new type of energy whose potential surpassed its predecessors: nuclear energy.
"This revolution witnessed the rise of electronics with the transistor and microprocessor. It also gave birth to telecommunications and computers. These new technologies were once again possible because of education in electrical and nuclear science.
"As you can see from this brief history spanning over three centuries. science education, Darko-Mensah, noted, has therefore transformed mankind and that science appears to be fundamental in education", he continued.
For him, the world is currently in the fourth industrial revolution. This revolution, he said was unfolding before our eyes. "It is once again based on science; computer science to be specific. The emergence of the Internet is transforming our economies and societies right now".
This is the first industrial revolution, he said deeply rooted in a new technological phenomenon called: digitalization.
This digitalization, he contended enables us to communicate and perform tasks at speeds that humans cannot comprehend. "It allows us to sit here in this conference room while checking the time teachers reported to school on our phones."
He stressed that "the perfect example of this fourth industry period product is the Infoview SIMS Mobile application."
According to him, this application allows teachers to quickly create their scheme of learning material with a click of a button on their phones.
"Ghana is currently in an education revolution of its own. Our great nation is embarking on transforming our educational system to position us in the 4th Industrial Revolution", the Minister disclosed.
The Western Region, he underscored was positioning itself for opportunities in this digital industry as well. "I believe that our schools in the Western Region are key stakeholders in creating the next generation of highly skilled ICT workers for the digital economy".
"As the Minister of our great region, I am excited about the opportunities coming into the Region", he expressed happiness.
Minister's Future Plans
The Regional Minister explained that he plans to embark on transforming the local economy from a commodity-based to innovation-based one.
"We are poised for this 4th industrial revolution and I am confident that we will all do our part to make this great region a beacon of hope for all Ghanaians.
"We are blessed with many natural resources; however, we need the right education; specifically, a focus on science and technology for our citizens to enable them to seize the opportunities we have in our region.
"In the next coming weeks and months, I will be announcing plans and strategies for creating a Western Region Innovation Hub and an information technology Data Center that will bring private and public partners together. I plan to transform Western Region into an information technology leader in Ghana", he pledged.
He stressed, "For the educationalists, he cautioned them against blame game "As school owners, administrators and directors, don't ask what your region can do for you but rather ask what you can do to transform education in the Western Region."
The minister continued, "We need your vision and support to educate the digital workforce needed to sustain the Western Region Innovation Hub. We all need to make it our goal to create the digital economy within this region. We all need to make it our personal goal to digitalize our schools and to produce future leaders of our nation.
"I will like to congratulate Jeff Bamba, Founder and President of InfoView Data Solutions for this great initiative", he commended.
He added that "From what I have read and seen from InfoView, I believe that your school is in great hands by working with them" he told stakeholders.
On her part, Mrs. Priscilla Baaba Morris-Amoah, a Montessori Pedagogist (MCI) and consultant, explained the principles in Montessori classroom set up (freedom of choice), the prepared environment, she underscored reduces frustration when children don't want to do what is prescribed.
In addition, she said practical life area for development of social skills was needed from life.
The issue of multi-age grouping, sensoria lcultural areas in the curriculum, language development outdoor, among others, she said would all require application.
The Founder of Beanstalk Montessori International School in Accra ended up inspiring participants with her presentation.
Anis Haffar, one of the educationists in the country promoting quality education, also explained what constitutes "Education in the 21st century".
According to him, teachers in the country shouldn't continue victimizing young pupil they are supposed to be responsible for their future. "How you treat pupil is exactly what they become".
For private school teachers, he told them pupils remain their precious commodities.
The Founder of Infoview Data Solutions Limited, organizers of edu-Revolution Africa conference, Jeff Bamba highlighted challenges facing schools.
He touched on cultural perspectives, when cutting down cost of running private schools, performance assessment with technology, using technology for curriculum, safety, productivity among others.