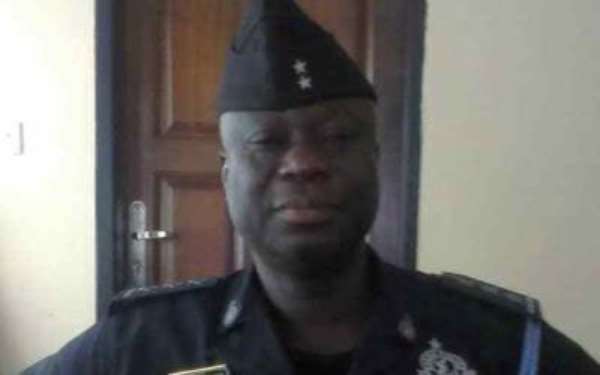 DSP Benjamin Samani, Millennium City Commander
A suspected arson almost resulted in the death of a 14-year-old boy at Millennium City, near Kasoa in the Central Region.
The incident, which is reported to have occurred around 12 midnight on Saturday, 28th September 2019, is believed to have been orchestrated by one 'Big Man' at Nyanyano, also near Kasoa.
Explaining the incident to DAILY GUIDE, Austin Gaiakpa, elder brother of the victim, said that he was there in the early hours of 29th September 2019 when he received a distress call from her sister, Nora Gaiakpa, informing him that someone had set her food joint ablaze in the night.
He said he followed up and found out that the report was true. He subsequently made a formal complaint to the police and also contacted the National Disaster Management Organization (NADMO) for support.
Nora Gaiakpa, owner of the burnt food joint, confirmed the incident. She said on that fateful Saturday, she attended church service with some members of her family at Awoshie, leaving the 14-year-old Lafornaku Abraham in the care of his elder brother, Nathan Beyiwo.
According to her, she was called in the early hours of Sunday that her food joint had been burnt down, which she confirmed when she rushed there.
She added that she suspected 'Big Man' for being responsible for the arson.
According to her, she has been selling there for over 12 years and used to pay GH¢150 to the suspect until the place developed.
She said 'Big Man' threatened to ensure that she left the place and actually gave the place out to someone, who is erecting a structure at where her joint used to be barely three days after the incident.
Narrating his ordeal to this paper, Lafornaku Abraham said he was fast asleep in the structure when the intensity of heat woke him up, and when he realized that the place was on fire, he ran away and was lucky to escape unhurt. He saved his brother, Nathan, who had minor heat burns around his neck and face.
The Commander, DSP Benjamin Samani, acted swiftly the moment he received the case in the presence of this reporter, calling all personnel involved in the case and ordering the arrest of 'Big Man'.
He gave an assurance that the command would do everything legally available to them to get to the bottom of the matter.
---Daily Guide