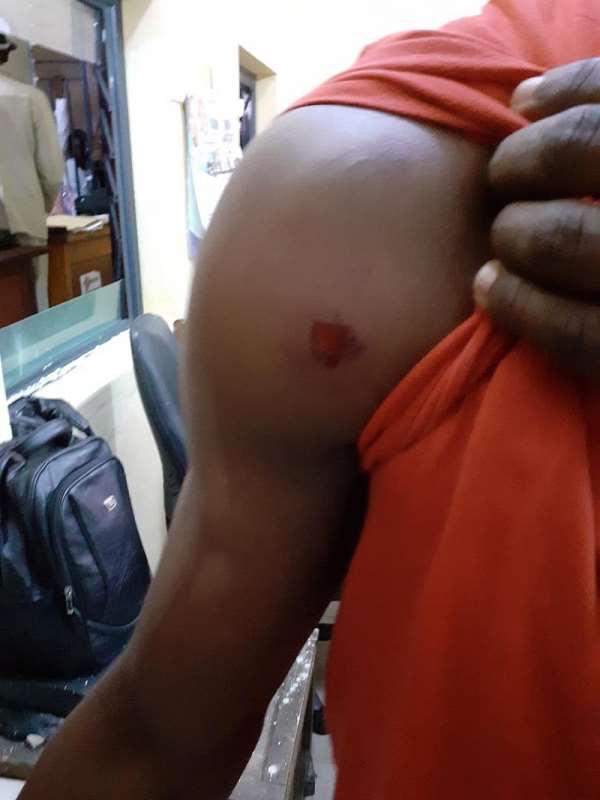 It is emerging that some police personnel during yesterday's demonstration were drunk leading to the brutalization.
Students claim the breath of some police personnel smelled alcohol.
The Ghana Police Service yesterday brutalized demonstrators, mostly law students from tertiary institutions and the Ghana National Association of Law Students marching peacefully to demand for a reform in the legal education system.
Videos circulating suggest demonstrators were brutalized with water canons and rubber bullets among other offence weapons.
Thomas Kojo Quansah, one of the leaders captured in an interview with Adom Fm emphatically stated that " let me tell you the truth, in asmuch as some personnel conducted professionally some were drunk. Their actions and bad breath smelled alcohol."
He added that some personnel had no name tags. "I tried to get a name of a policeman who assaulted me but realized he had no name tag on him, including others I spotted."
Thomas Kojo Quansah has however described the act by the Police as a disappointment, adding that "If they are not sorry that's fine but the whole of Ghana is watching."
But Inspector Kwabena Danso, one of the personnel of the grounds yesterday, interviewed on the same network monitored by ModernGhana debunked the allegation saying the police have not regreted the act perpetuated on the protestors.
He confirmed, that the police used riot control equipment including water cannons, rubber bullets, and buttons and shields.
"Apologize for what," he stated emphatically, rather accusing the students of flouting the law.
He said the police brutalized the students because "their conduct was conducive of breach of peace."