Police justify use of force against protesting law students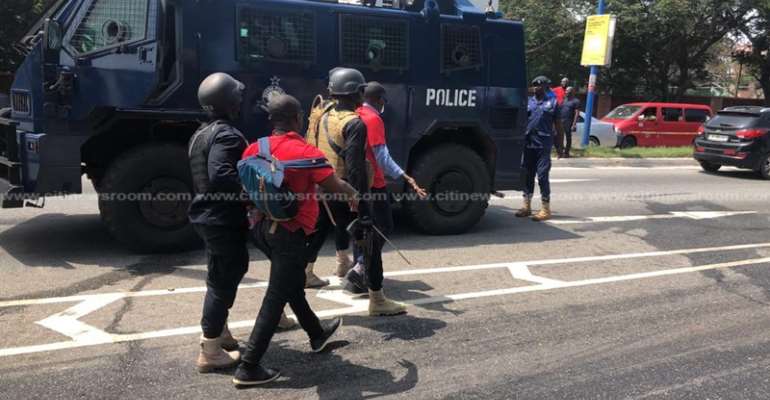 The Ghana Police Service has justified the use of what it calls reasonable force to disperse agitating law students who protested to demand reforms in the legal education system.
The Police stopped the protestors at the Ako-Adjei Interchange in Accra, preventing them from getting close to the seat of government; resulting in the firing of rubber bullets and the use of water cannons among others.
There were reports some students were injured by rubber bullets fired by the police.
Thirteen of the protestors were also arrested and later granted bail, while some sought refuge at the Canadian Embassy.
But the Deputy Police PRO of the Accra Regional Police Command, Inspector Kwabena Danso, told Citi News the protestors did not follow laid down procedures.
"They attempted to go to the [Presidency] so we decided not to allow them to go. They blocked traffic and it was not easy. So we decided to disperse them based on their conduct."
The leaders of the agitated students, however, say they were law-abiding in the protest.
According to them, the police simply acted in an unprofessional manner.
Nii Senpe Adokwei Cudjoe, the spokesperson for the National Association of Law Students, said the police ignored their appeals for restraint.
"We kept emphasising, calm down your people. The attempt to harass our people was completely needless and uncalled for. We moved all the people to one side and all of a sudden, they started spraying us."
Meanwhile, the governing New Patriotic Party condemend the police action and demanded a full-scale enquiry into circumstances that led to the use of force against the protesting law students by the police.
Speaking to Citi News after a statement issued by the NPP, its General Secretary, John Boadu condemned the action of the officers and called on the Police administration to investigate the matter.