Police misconducted themselves during our demo – Law students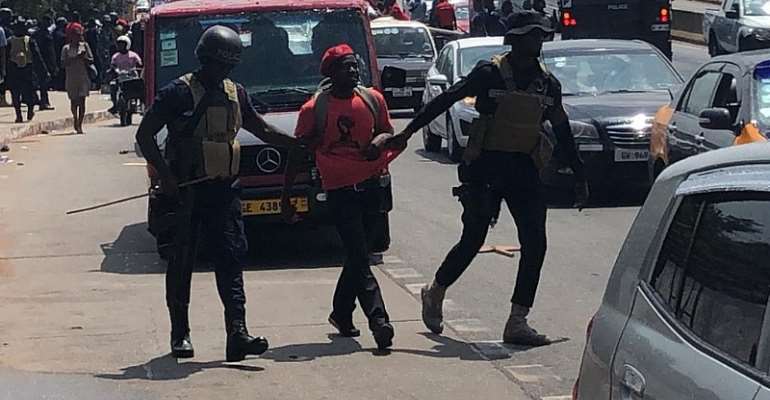 The group of law   students who hit the streets on Monday to demand reforms in the country's legal education system have described as unprofessional the actions by officials of the Ghana Police Service that led to violence that marred the protest.
According to them, the police's argument of not receiving notification ahead of the protest hence their decision to prevent them from heading to the Flagstaff House is palpably false.
Spokesperson for the group in an interview on Eyewitness News said the deliberate attempts to harass them in their quest to have the country's legal education systems reformed is completely unnecessary.
"The police have really misconducted themselves. If they say we did not inform them. Then that is a complete lie. We gave them three days notice. So for any body to say we didn't notify them is complete falsehood. The police never escorted us. When we were approaching the Jubilee house, we had intelligence that the police had mounted a barricade there. The police wanted to incite violence by pushing some of our people but we asked them to calm down because the attempts to harass us was needless and uncalled for. But all we could see was that they were spraying water on us."
Violence at demo

Water cannons were fired on the law students while warning shots were also fired as students tried to march to the Jubilee House.

Some protesters were also reportedly injured by rubber bullets.

About 13 of the students were picked up by the police but were subsequently released.

Police's response

But, Inspectator Kwabena Danso, Deputy PRO of the Accra Regional Police Command who also spoke on the same program insisted that, the students' action rather compelled them to act on 'standard procedure'.

"They made their intention to go to the Flagstaff House and we decided to stop them. It was not easy so we decided to disperse them based on that conduct. We have charged the arrested person with breach to peace and unlawful demonstration and they are under investigations."
The protest by the law students follows the latest massive failure recorded at the Ghana School of Law, as only 128 students out of 1,820, passed this year's entrance exam.
The march was expected to end at the Jubilee House with the leadership presenting a petition to the President.
The protestors were however prevented from getting to the Jubilee House.