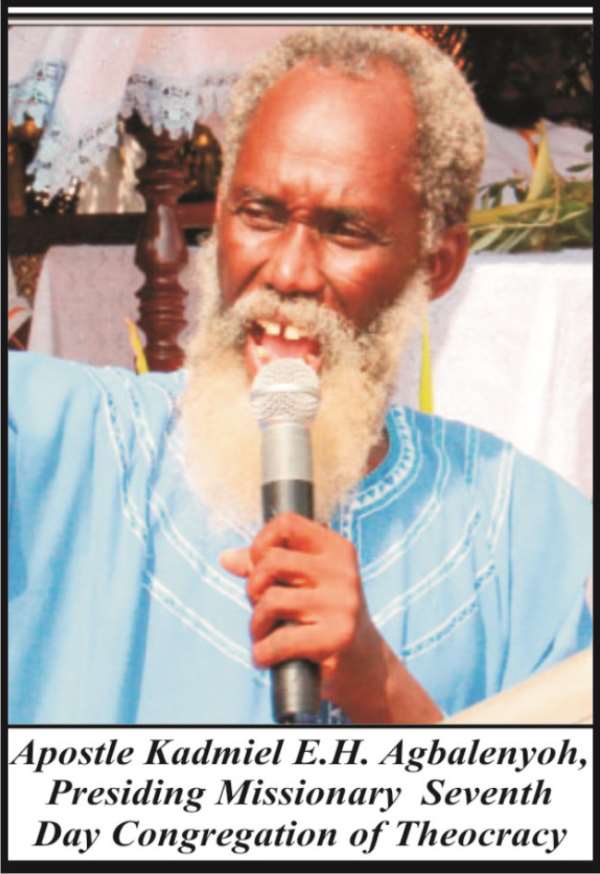 The two-edged sword, strong and powerful religious, political and socio-cultural weapon, which can destroy the world is "Word", even the world was created by the active word - Ps 33:6.
CHILDREN BELONG TO GOD
What is unknown to Political Authorities is that children are God's inheritage while parents are caretakers "Lo, children are an heritage of the LORD: and the fruit of the womb is his reward. As arrows are in the hand of a mighty man; so are children of the youth" Psalm 127:3-4. God has therefore commanded parents as well as educators to give innocent children sustainable moral and skills to benefit them. "Train up a child in the way he should go: and when he is old, he will not depart from it" Prov 22:6. Thus the future of children, rich and poor, literate and illiterate are to be judged by the types of training given them. "Even a child is known by his doings, whether his work be pure, and whether it be right" Prov 20:11. The types of education and skills children are introduced is necessarily important, thus it must be scrutinized by parents, guardians and educators, specifically this 21st Century.
INTERNATIONAL PHILOSOPHERS AND POLICY MAKERS
Notably, International Religious and Political Policy Makers have been careful in choosing "the WORD" that can perfectly promote their hidden agenda; example Millennium Development Goals (2000-2015 AD)and Sustainable Development Goals(2016-2030 AD). The deceptive choice is Comprehensive Sexuality Education. The strong and powerful active WORD is Comprehensive, which ordinary persons may not scrutinize. Accordingly, COMPREHENSIVE is defined in New Comprehensive International Dictionary of the English Language, page 269, as follows "(1) Large in scope or content: including much: broad (2) Having the power of full understanding. - comprehending", and The American Heritage Dictionary of the English Language, page 388 "(1) So large in scope or content as to include much. (2) Marked by or showing extensive understanding" Those who understand what theese great dictionaries projects, we could understand the destructive nature of the Comprehensive Sexuality Education policy.
1948 UNIVERSAL HUMAN RIGHTS
As after adoption of the United Nations Universal Human Rights (1948), certain reprobate Human Rights Activists found occasion to force Americo-European Powers to legalize Homosexuality and Lesbianism. 21st Century Americo-European Power , for that matter United Nations Organization stoutly legalized immoral sexual orientation in this 21st Century. Thus some Human Rights NGO'S, being supported by UNESCO have changed existing Basic School Curriculum in the developing world. Now, African Nations that are struggling to overcome political and religious conflicts, HIV AIDS and extreme poverty are being forced to implement the Comprehensive Sexuality Education policy. This uncultured political Sexual Policy commands that innocent African Children be introduced to Comprehensive Sexuality Education, from the age of four(4 years). If Comprehensive Sexuality Education policy is accepted by the stakeholders, the glorious future of African Children will jeopardized and morally corrupted on earth.
UNCHRISTIAN EUROPEAN POWERS
It is extremely unfortunate that European World, christened Christendom has become Satandom, which stoutly attack the moral Kingdom of the Almighty God and Christ Jesus. its powerful philosophers are introducing innocent African Children to abominable Sexual practice, such as homosexuality, lesbianism, transgender, bisexuality, and beastianism, which Americo-Europeans have enjoyed after World War II.
END TIME PROPHECY
The 21st Century abominable works of the apostate Religious and Political philosophers and policy makers, as Christ Jesus echoed in Luke 17:26-30, and specifically, Apostle John Zebedee predicted this blasphemous last day events in AD 96, as follows "And when they shall have finished their testimony, the beast that ascendeth out of the bottomless pit shall make war against them, and shall overcome them, and kill them. And their dead bodies shall lie in the street of the great city, which spiritually is called Sodom and Egypt, where also our Lord was crucified" Rev 11:7-8. The passage stipulates that the last people on earth would deny existence of God as the Egyptians (Exodus 5:2) and recognized homosexuality as Sodom and Gomorrah did(Genesis 19:1-5)
TRUE HUMAN SEXUALITY
The only human Sexuality, created for procreation which the Almighty God continuously mandates is heterosexuality (sexual activity between two lawful male and female adults). "And the LORD God caused a deep sleep to fall upon Adam, and he slept: and he took one of his ribs, and closed up the flesh instead thereof;
And the rib, which the LORD God had taken from man, made he a woman, and brought her unto the man. And Adam said, This is now bone of my bones, and flesh of my flesh: she shall be called Woman, because she was taken out of Man.Therefore shall a man leave his father and his mother, and shall cleave unto his wife: and they shall be one flesh.
And they were both naked, the man and his wife, and were not ashamed" Gen 2:20 - 25, Gen 1:26 - 29.
Without religio-political controversy, the legalization of homosexuality, lesbianism, transgender and bisexuality by the Americo-European Powers, for that matter United Nations is stout rebellion against the Almighty God , Christ Jesus and Holy Spirit, being the destruction of the Kingdom of Righteousness. "Thou shalt not lie with mankind, as with womankind: it is abomination.
Neither shalt thou lie with any beast to defile thyself therewith: neither shall any woman stand before a beast to lie down thereto: it is confusion" Lev 18:22-23
Sexual activity between married couples (male and female) is credited with specific holiness. "Marriage is honourable in all, and the bed undefiled: but whoremongers and adulterers God will judge" Heb 13:4. Truly, Christ Jesus also recognized the legitimate sexual union between adults male and female, appreciated and approved by the Almighty God and Creator. "And he answered and said unto them, Have ye not read, that he which made them at the beginning made them male and female, And said, For this cause shall a man leave father and mother, and shall cleave to his wife: and the two shall be one flesh? Wherefore they are no more twain, but one flesh. What therefore God hath joined together, let not man put asunder" Matt 19:4-6.
Verily, the Almighty God, the Lord God of Israel who created the world will afflict any Religious, Political, Traditional and Socio-economic authority that enforces Immoral Sexuality in the present world - Rev 6:12-17.
By Apostle Kadmiel E.H. Agbalenyoh,
Presiding Missionary Seventh Day Congregation of Theocracy.