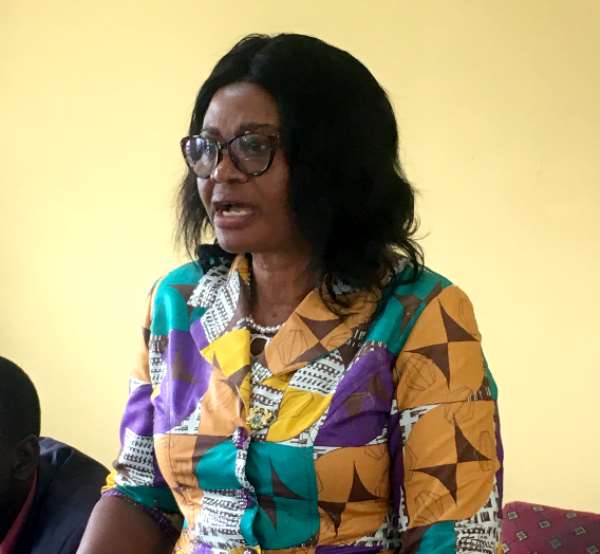 Mrs. Victoria Adu addressing the participants
An 8 – unit dormitory block encompassing eight-seater water closet toilet facilities, store rooms, urinals, bathrooms, balconies worth over GH¢100, 000 awarded for contract by government through Ghana Education Trust Fund (GETFUND) has been completed and officially handed over to the management of Attafuah Senior High School in the Akim Oda by Hon Victoria Adu, the Municipal Chief Executive (MCE) for Birim Central.
In a short ceremony to officially hand over the project, the MCE said government is committed to constructing more school blocks to address the infrastructural deficits hindering the educational sector.
Hon. Victoria Adu noted that education is a key to success and pledged that, the Municipal Assembly would do all it could to support public schools as part of government's initiative of championing quality education in the Municipality and the country as a whole
She however called on philanthropists to initiate self-helped projects within the communities in the Municipality to augment the efforts of the government.
Hon Adu also commended government under the leadership of His Excellency Nana Addo Dankwa Akufo – Addo, the President of the Republic for awarding such unprecedented project for contract to reduce the infrastructural challenges confronting Attafuah Senior School.
Mr Prince Kwaku Addai, the contractor in-charge of the Newlove Company Limited, the construction firm that spearheaded the contract, commended Management of the Assembly and Attafuah Senior High School for their swift support given to them to make the project completes on time to serve its intended purposes.
He said Newlove Company Limited employed 70% people from the Municipality to construct the dormitory block and urged management of the school to regularly maintain the dormitory to ensure its longer lifespan.
Mr Isaac Osew Larbi, the headmaster of the school who spoke on behalf of management of the school, thanked government for the provision of the dormitory block and hinted the block would go a long way to alleviate the plight of the students and pledged to see to the proper care of the building.