ROPAB demonstration called off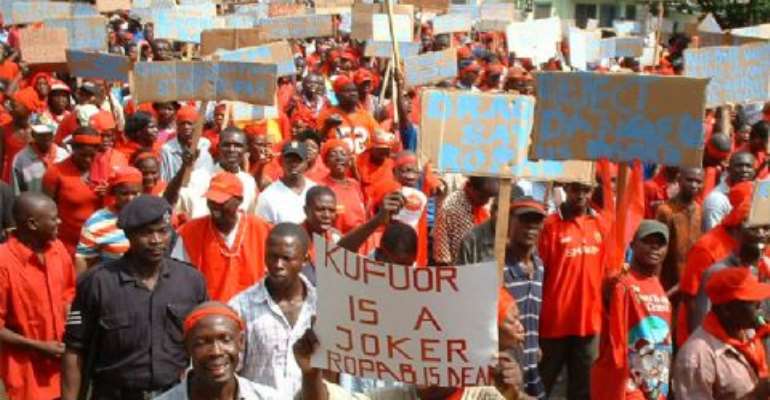 Accra, March 1, GNA - Concerned Ghanaians, a group staging demonstrations against the Representation of the People (Amendment) Bill (ROPAB) and against Police brutality on Wednesday called off its hitting the street tomorrow (Thursday) The call off followed an "Order of Prohibition" issued by Justice P.K. Gyaesayor at the Fast Track High Court in Accra preventing the holding of the demonstration.
It said: "This "Order of Prohibition" will remain in force for ten days... We must accordingly call the 2nd March demonstration off for now.
A statement signed by Mr Mahama Ayariga, MP for Bawku Central; Mr Bernard Mornah and Mr Adam Mohamed-Sanusi, Leaders of the Concerned Citizens, said "We have had two successful demonstrations - the largest that the capital has seen in recent years.
It said the struggle against the law would continue so that its implementation did not establish chaos and future chaos in the country.
"The New Patriotic Party (NPP) government, recognising that it had lost the argument completely panicked.
"It used the Ghana Police Service and its "Party Police" to brutalise and intimidate protesters. When this tactic failed, NPP rushed the enactment processes (parliamentary vote and presidential assent), through in the hope that resistance would collapse once the law had come into force."
The statement said: "Now they have taken this court action to buy themselves time and to demoralise and divide protesters." It said despite the court restraint, "we will remain resolute in our commitment to continue the campaign. There must be no turning back".
The statement said there were important reasons for that stance because according to the Constitution, "the sovereignty of Ghana resides in the people of Ghana.
"The people are the ultimate guarantors of constitutionalism and national stability.
"No act of the Executive of the Legislature is irreversible if it collides with the popular will. The people have an inherent right and duty to act to restore constitutional balance when our institutions fail as they have done in this case."
The statement said, "The NPP majority's passage of ROPAB into law does not close the matter - it only undermines the popular legitimacy of Parliament. It is the people that must act to restore legitimacy to Parliament. It said "the ROPAB struggle is not just some idle test of strength between the NPP and its opponents. The issue at stake is critical to national survival. "The crisis that NPP has created through ROPAB will not go away. It can only escalate. We have two choices. We can deal with it now as a matter of principle through dialogue and public pressure. "If we do not struggle today we will have to deal with it in 2008 in the context of elections - a context that almost guarantees chaos, conflict and violence as the NPP seeks to impose its will through dubious electoral practices. "It is our historic duty to fight ROPAB by any legitimate means necessary. We call on campaigners at all levels to remain vigilant and be ready to take the next steps when these are announced." 01 March 06