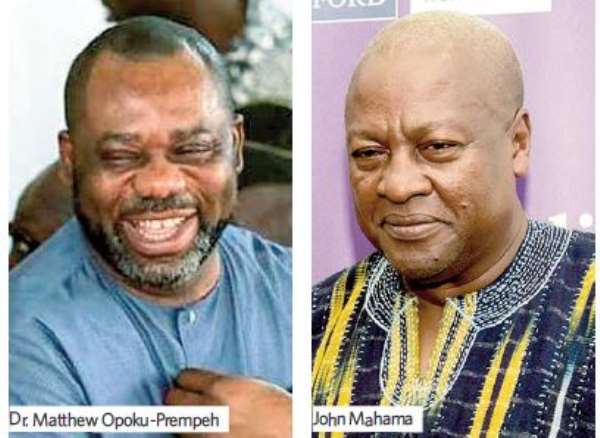 Education Minister Dr. Matthew Opoku Prempeh has descended on former President John Mahama for making 'convenient' statements about the controversial Comprehensive Sexuality Education (CSE), which the government says is not part of the curriculum for basic schools.
According to him, Mr. Mahama's erstwhile National Democratic Congress (NDC) government introduced Sexuality Education in 2015 but is now turning around to score cheap political points as regards the matter.
The minister said the New Patriotic Party (NPP) administration had not introduced the CSE as is being claimed, and said the government would never do anything to jeopardize the country's cultural norms and practices.
He said he was stunned to see Mr. Mahama and the NDC, who introduced the subject in their time, making a U-turn to blame the NPP government for the policy.
Speaking at the National UTAG Congress at KNUST in Kumasi yesterday, the minister said he was not happy with Mr. Mahama's 'hypocritical' stance on the matter.
Napo stated that he had been chastised unjustifiably by the public because of Mr. Mahama's "propaganda and dirty politics."
According to him, he would definitely come out boldly with evidence and other facts to expose the hypocritical nature of Mr. Mahama and the NDC.
"I will speak directly to John Mahama on Monday. He is a hypocrite and that is not the way to exercise leadership," Napo said.
Setting the record straight, Dr. Prempeh stated that Cabinet had not approved the CSE, so he didn't know why he was being lambasted.
"The guidelines for the Comprehensive Sexuality Education doesn't have Cabinet's approval, therefore, there is no subject on the CSE as I speak now. The pictures that you see on the Internet were published by John Mahama's NDC in 2015; therefore, nobody can accuse me of that," he said.
"Why should someone who has published a book on Sexual Education in 2015 turn to blame me?" the minister queried.
According to him, as the Minister of Education, he would never allow anybody to import foreign culture on schoolchildren in order to jeopardize their future.
He said Article 39 stipulates that the culture of the country should be given a priority whenever any decision is taken on education, and he is aware of that.
Napo, who seemed very disturbed over Mr. Mahama and the NDC's action, said, "If we don't stop this dirty politics, governance will be difficult."
---Daily Guide