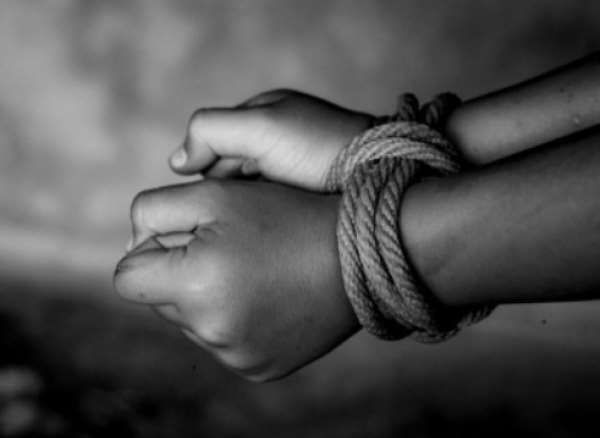 As of this writing, it had been reported by the media that trial had begun for some kidnappers believed to be in the pay of the key operatives of Ghana's main opposition party, the National Democratic Congress (NDC). I have yet to follow developments on this front. For now, though, our discussion is focused on a news article titled "Nigerian Suspects in Canadian Girls' Abduction also Masterminded Kidnapping of Indian Businessman" (Modernghana.com 6/12/19). Absolutely no criminal case of kidnapping and the fatal targeting of members of the Ghana Police Service (GPS) that has occurred within the past five years has been without the active involvement of some Nigerian nationals. As well, even as I write, some 80 Nigerian nationals, largely of Ibo/Igbo descent, going by their last names, are reported to have been rounded up by American security agents, all over the United States, and charged with cyber-related crimes involving the stealing of approximately $ 50 Million (USD).
Now, this is not just a question of ethnic or national stereotyping. Any country that produces such a felonious symphonic orchestra of felons must, perforce, be afflicted with serious leadership problems of crisis proportions; and this is what the Nigerian leaders ought to be frontally addressing, instead of lamely blaming Ghanaians for supposedly fanning the flames of notoriety and infamy, to speak much less about raw animosity, for Nigerian nationals resident in Ghana, that is then taken up by the global media. No such speculative plaint could be more preposterous. Indeed, contrary to what Nigerian deportees like Prof. Augustine Nwagbara, the former Visiting Professor with the Winneba-based University of Education, would have his compatriots believe, the recent arrest of the aforesaid 80 Nigerians charged with computer-related financial crimes were not fingered or reported to the US security agencies by Ghana's media or even members of Ghana's security agencies.
Rather, they were all rounded up across all 50 states of the United States of America without any known external legal and/or security input from Ghana. And this is all to be expected, because the United States runs perhaps the best crime-detecting security machine on the globe. But I guess when you are a relatively small country with a relatively better security system and a very low crime rate, especially crimes of the most heinous order, such as has been observed to run rampant and riotous in the most populous West African country, then, of course, you are likely to be bitterly envied by most of your neighbors and even virulently accused of creating a bad image and publicity for a globally infamous country like Nigeria.
But, of course, just because Ghana is a much smaller country, albeit one that sports unarguably the best security record in the West African sub-region, ought not to give the Nigerians the facile impression that they could gratuitously attempt to scapegoat the Ghanaian people and our leaders for the chaotic national security climate that prevails in their country. I have said this many times before and hereby repeat the same, that the entire ECOWAS law or tenet governing the free movement of humans, goods and services ought to be periodically reviewed, especially in the face of the unsavory swamping of Ghana and other relatively more stable and smaller countries with an enviable level of national security by the most criminal elements of Nigeria. It is almost as if the Nigerian leadership held a crunch session and, practically overnight, decided to generously export or at least facilitate the mass exodus of the most criminal elements of their country into the neighboring countries, so as to drastically reduce the hassle of having to frontally deal with this problem at home.
And then to mischievously strike a pose of diplomatic browbeating in a bid to getting these relatively far less militarily endowed neighbors to tolerate or suffer what the Nigerians themselves would not have tolerated or suffered if the situation were the reverse of what presently prevails. In most of the high-crime instances involving the active participation of Nigerian nationals in Ghana, these Nigerian participants or criminal suspects are almost invariably the criminal masterminds rather than mere collaborators taking marching orders from their native Ghanaian counterparts, by the way. This is what makes the situation all the more serious and downright dangerous. Which is why several times in the past couple of years, I have come dangerously close to calling for the implementation of something akin to Brexit, in which Ghanaian laws, especially in the area of our national security, were privileged over and above those of ECOWAS instead of the other way around.
I have come only dangerously close to calling for the stringent implementation of the latter, because I also recognize the imperative need for regional integration and the long-term significance of the practical ideology of economies of scale for the long-term development of the country and the West African sub-region as a whole. Still, the one thing over which I am fully convinced our leaders ought not to compromise on, is the acceptance of kidnapping and ransom payments as a legitimate category of Ghana's labor market. I feel the exact same way towards the introduction of the Nigerian-originated Okada commercial transportation system. Okada is simply not healthy and safe for our national culture and development, no matter how vociferous its advocates become in terms of the dogged and vehement promotion of Okada's purportedly commercial value. You see, relatively stable cultures like Ghana's are about far more than mere money making. We are also equally and, perhaps, even more than equally about moral values and the integrity of our very humanity.
*Visit my blog at: kwameokoampaahoofe.wordpress.com Ghanaffairs
By Kwame Okoampa-Ahoofe, Jr., PhD
English Department, SUNY-Nassau
Garden City, New York
August 27, 2019
E-mail: [email protected]