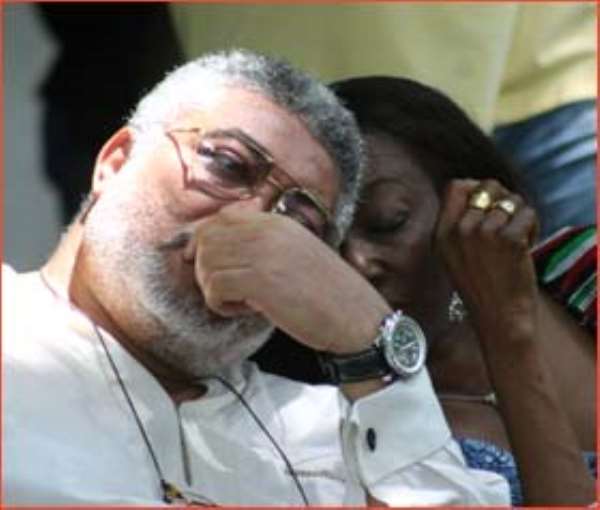 Dear Ex-President Rawlings,
We no go sit down make you cheat us everyday no way, was song that many of us sang during and after the June 4th 1979 coup. As a young man then, l could identify with the passion you had to rid our beloved country of corruption and corrupt leaders, and Ghanaians far and near all realized the need to address the rot the country was facing then, so naturally you were hailed as a hero.
Today, one would ask what happened to our once upon a time hero? Where is our hero when it comes to addressing PDS corruption? Where is our hero when corruption seems to have riddled and infested the current leadership Ghana has today?
The answer is simple to some of us, who have had the opportunity to sit with you and actually listened to some of the things you had to say prior to the 2012 elections, just as we also listened to views you shared prior to 2016 elections, so the sudden U-turn into this loud silence on the blatant corruptions being meted on the average Ghanaian, leaves one to wonder what the deal is with you with the current ruling NPP.
Where is the hero who could condemn acts of corruption? This is what many of us keep asking, and frankly today many Ghanaians are settling to the narrative that you have cut a deal with the devil itself and for that reason you have been silenced.
Now, the youth of today, many of whom hold the same passion you had in you in 1979, are no longer going to sit back and watch leaders take Ghanaians for fools. No Ghanaian today wants to be a spectator and Mr. ex-President it seems that's the seat you are on now is one of a spectator. Your relevance to the NDC party as it stands today would forever be tainted if all you do is attempt to create discourse amongst the very party to which you are a founding member of. We urge you to revisit the strategy or tangent you are on now because it's a self-destructive one if you ask some of us.
Finally for the love of country and dare l add that of your daughter who aspires to become a active member of the Party's executives , Ghanaians would like to hear from you on how you rate the current government of friends and family, and more importantly your take on the gargantuan corruption upon corruption saga that seems to become the trademark of the current NPP Government. Do the honorable thing as a statesman and address these issues along with the youth and people of Ghana so that the future of your grandchildren can be as bright as you once envisaged .
On behalf of all NDC members home and abroad, as well as NDC sympathizers, and Ghanaians as a whole, l say, we no go sit down make we watch you destroy yourself. Stand up against corruption, Mr Hero and speak up to the issues we face as a nation and together Ghana shall rise again.
Long live Ghana and Short Live the NPP Administration EYE ZU
Kwame Nii
NDC Member
Social Commentator