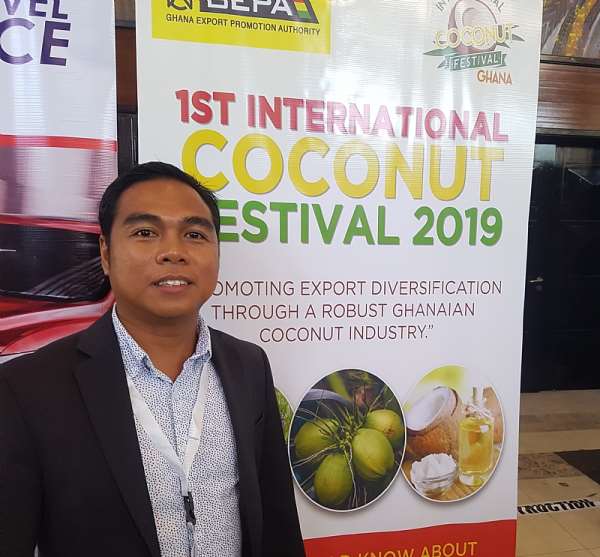 Julian Baricuatro
The Founder of Canada Coconut Festival, Julian Baricuatro, has called on Ghanaian leaders to be at the forefront of the campaign to promote the production and export of coconuts to meet the growing global demand for the fruit and its derivatives.
Speaking in an interview with Lord Kweku Sekyi, Julian Baricuatro urged stakeholders to brand Ghana's coconuts as 'superfood' with unique health benefits in order to attract more consumers.
He called on organisers of the recently-held 2019 International Coconut Festival to sensitise Ghanaians about the economic benefits of coconut production to the country by emphasising on health and wellness as well as employment creation.
The Canadian businessman and organiser of the first International Coconut Festival, held in Toronto, Canada, also commended the Ghana Export Promotion Authority (GEPA) for supporting the initiative and called for more private sector involvement in subsequent festivals.
The International Coconut Festival held in Accra from 24th September to 26th September, brought together exhibitors as well as major players in agriculture and industry for the launch of annual 'National Coconut Day' as well as a tour of the Western Region to assess the potential of the coconut business.
Speaking during the opening ceremony, the Western Regional Minister, Kwabena Okyere Darko-Mensah, said the Regional Coordinating Council (RCC) will facilitate the planting of 5 million coconut trees to augment production and boost the region's status as the hub of the Ghana's coconut business.
He said the objective of the organisers, Africa Coconut Group, falls in line with President Akufo-Addo's agenda for job creation dubbed, Planting for Food and Jobs (PFJ).
The Chief of Takoradi, Osahen Katekyi Busumakura, pledged to use his position and influence to encourage the youth to go into commercial production of coconuts.
According to data from the Food and Agriculture Organization Corporate Statistical Database for the year 2017, Ghana was ranked 14th on the list of the world's top coconut producers with 383,960 metric tonnes produced in 2017 alone.